New Turf Field Features Lights, Scoreboard, and Flag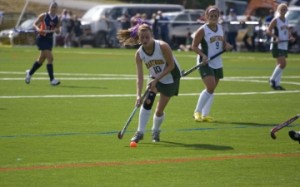 By Dave Scarnato
Staff Writer
As we all may know, the Marywood Pacers have opened athletic play on the new synthetic turf field. There are some stunning features to make this new field truly state-of-the-art. The main feature, stadium lighting, makes the field unique to all of the other athletic fields. Now, evening games can be scheduled, as well as practices.
"The lights are incredible." said Dr. Mary Jo Gunning, Director of Athletics. "The usage it (the field) has been receiving this fall has been remarkable. Teams are able to use the field when they want, and scheduling the field for the particular teams has been so much easier. The lighting has also taken away wear and tear on our arena." In the past, if teams wanted to practice during the evening, particularly when dark, they would use the Insalaco Arena, even though their sport was to be played outside.
Another feature to the field is the new electronic scoreboard, located in the South end zone. The scoreboard is visible from Interstate 81, making it accessible for drivers to briefly view the score of the game as well as spectators and athletes. Above the scoreboard is a bright yellow 'M' logo with green background.
The North end zone features an American flag that can be viewed from the highway as well. The West side of the field contains a building currently under construction which will serve as storage, restrooms with running water, and a field house for the Pacers and their competition. Dr. Gunning expects this building to be fully operational by the spring season or sooner. The East side of the field contains an area flattened and undeveloped. Dr. Gunning said that there has been no further discussion on what to do with the land. However, an idea that she mentioned was a practice field. But, no decision has been finalized.
"This field is not only a beautiful addition to our Athletic Department," Dr. Gunning continued. "But a great tool in recruiting future student-athletes. This field would be a top reason for one to choose Marywood. I believe now we can compete athletically and structurally with any school out there. We have a great groundskeeper in Chip Toma, and I am excited to see what is in store for the Athletic Department."
So, come on down to the new field and check out the features it has to offer. Whether you go to watch a Pacer competition, or simply go to see what the field looks like, I guarantee you will not be disappointed.