10 Questions: Mike Sicilliano
By David Scarnato
Staff Writer
Who: Mike Siciliano
Major: History/Secondary Education
Sport: Baseball
Position: Pitcher
Number: 13
Hometown: Whippany, NJ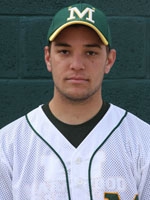 What is your best pitch?
Fastball.
What sport would you play if you never played baseball?
Football.
What Big Leaguer would you like to pitch against?
Mark Teixeira.
Favorite opponent to face in the CSAC?
Centenery Cyclones.
Favorite pitch to strike out a batter?
Fastball away.
Favorite Athlete?
Ken Griffey Jr.
Favorite Sports Team?
Green Bay Packers.
Favorite class?
United States History Since 1865 with Sandra Lewis.
Favorite Music Artist?
Bruce Springsteen.
Favorite Food?
Plain Pizza.