10 Questions: Stephanie Naro
By David Scarnato
Staff Writer
Stephanie Naro
Major: Communications, Broadcast Media
Sport: Women's Lacrosse
Position: Defense
Number: 23
Hometown: Dunmore, PA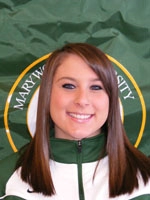 What is your favorite moment from lacrosse?
Finding out I became a starter.
How was your adjustment from not playing lacrosse in high school to practically picking up a new sport?
Surprisingly, I thought it was pretty easy to pick up.
Why did you choose to play lacrosse?
I wanted to play a sport on the collegiate level. Marywood gave me a great opportunity to pursue this.
What Sport did you play in high school since Dunmore did not have a lacrosse team?
Soccer.
Favorite Sport other than lacrosse?
Definitely Soccer.
Favorite Professor?
Jim Hart.
Favorite Athlete?
Michael Phelps.
Favorite Subject?
English.
Favorite Music Artist?
Lil' Wayne.
Favorite Movie?
The Blind Side.