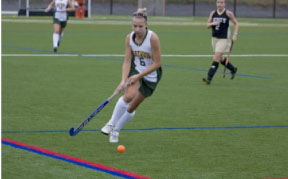 Amber Mohrmann
Staff Writer
Marywood University's Field Hockey team has been hard at work preparing for their season under the direction of their new head coach, Megan Bullock. They are also being led by co-captains Brittany Beaton (Sr.) and Julie Dougherty (Jr.).
The team arrived in the middle of August and immediately went to work honing their skills. Their current record is 1-6 and they are looking forward to the season ahead. Both the coach and captains  agree that Keystone College and Cabrini College are the most anticipated games, along with a game against Gwynedd Mercy College.
When asked about how the season was going and what her expectations were, Coach Bullock said, "It's going well, we are improving every game. I expect us to have a few growing pains, we are starting a lot of freshmen. We have a young team, a lot of underclassmen playing, but I expect to do just as well and actually a little bit better than we did last year; definitely post season."
Story continues below advertisement
The team graduated four seniors last year, which can prove to be a challenge for the team, but they have bounced back with eight incoming freshman. Coach Bullock also said that they believe they have done well filling in the empty spots with the underclassmen. "The freshmen are helping a lot, they've been a big asset to the team," Co-Captain Brittany Beaton said about the new team members.
Co-Captain Julie Dougherty added, "Yeah, I think everyone is using each other and we're working well together." Julie also added that the preseason went well, "We learned a lot of fundamentals skills during preseason and got good conditioning in, which really helped out for the games." Returning members of the team this year are juniors Emily Eremo and Dana Sweeney and sophomores Carly Bergstrom, Jamie Bowman, and Morgan Walsh. Junior Patrice Christensen has joined the squad along with freshmen Briana Bacchetta, Sara Bauer, Erin Dawson, Taresa Dongilli, Kelly Michalowski, Kathryn Morin, Amber Stevens, and Nicole Wessner.
Along with a large group of new players, the team has a brand new coaching staff. Head coach Megan Bullock and newly appointed Assistant Coach Kellina Yarrish will lead the team this season. Coach Yarrish graduated from Honesdale High School and had an outstanding field hockey career at Keystone College. Coach Bullock was the assistant coach of Marywood's field hockey team last year and took over the position of head coach this year. She has been playing field hockey since sixth grade and continued to play while attending Elk Lake High School. She then took her field hockey skills to the next level, attending Lock Haven University, where she was a standout player on their team for four years.
When asked about her transition from assistant to head coach, and whether it was difficult, she responded, "No, surprisingly not, I kind of thought it would be very much the same, still vocal, just a little more paperwork." She is enjoying being the new head coach and is looking forward to working with the team. Everyone here at Marywood wishes the team the best of luck in their season!
Go Pacers!