Marywood student balances school with passion
Dave Scarnato
Staff Writer
For most student-athletes, balancing a full time student role with the sport involves smart time management. In order for the student-athlete to enjoy the sport they love to play, as well as performing well in school, they must be discipline. For Jennifer Hurst, good time management helps her do what she does best, competitive ice skating.
Hurst, a freshman from the Philadelphia area, still competes in synchronized skating while majoring in Architecture. Her favorite dance styles on the ice are the Waltz, Tango, and Samba. She has been skating since she was nine years old at the request of her best friend, who after a year, gave skating up.
"After a year of training, she [her friend] stopped," Hurst commented. "But, I really enjoyed skating and I did not want to stop because of my friend, so I continued to train."
Her training paid off. At the Lake Placid Ice Championships, Hurst placed thirteenth out of fifty competitors. She said that this was her all time favorite competition. When home, she trains at the area's most elite rinks and participates in occasional exhibitions and ice shows.
Although Marywood does not have neither a skating club, nor a rink, Hurst finds time working with the University of Scranton's skating club and trains at Ice Revolution in Pittston.
Since she is a resident on campus, Hurst has to commute to her practices, taking up time on its own.
"I train Mondays and Wednesdays from 3:30 to 6pm," Jennifer said. "So, if I have one hour to spare to get homework or studying done, I really focus on doing my homework and getting the job done. Time is very essential, especially with my major. Having projects due really presses my time, but I am up for the challenge. Skating comes in and helps by giving me motivation to do well not only on the ice, but also in the classroom. But, once I hit the ice, its my time."
If you think time management was enough for her, another challenge that Jennifer faces is chronic knee and hip problems. Even though these problems can affect her performance on the ice, Hurst just ignores them.
"Once I hit the ice, I forget what is going on in the world and I focus on my training," Hurst proclaimed. "I know I have these injuries, I just ignore them and skate. I feel free on the ice and I let everything go. It is a great feeling."
Now a veteran of the ice, Hurst has started coaching younger aspiring ice skaters in her spare time (along with working a part time job, as well as the full time student status). She loves the role of being a coach and fully understands a role reversal.
"At first, I was a little nervous," Hurst said. "I realized that I was no longer the student, but the teacher. As a coach, I have the responsibility of teaching the sport and how to go about handling yourself. Now, instead of listening, you are being listened to. Coaching really is a worthwhile experience."
Jennifer's future plans are to start competing again by next year. She is excited to start training again.
"I know school right now is precedent over anything," Hurst stated. "So, I will just continue to train for next year. I just want to get used to the college lifestyle. Skating will always be there, but school is the most important thing."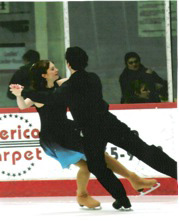 Even though school takes away the drive of competition from Jennifer, her good time management and positive attitude continue to let her be the best ice skater she can be.