Now or never for graduating Pacers: First lacrosse class has last chance at CSAC championship
Shane Ostroski
Sports Editor
Three years ago a talented group of freshmen came to Marywood to be a part of a new Lacrosse program. Expectations are always low for a new program just trying to get off the ground but under the direction of Head Coach Mic Grant, the team finished with an impressive 9-5 record with five of those wins in the CSAC conference.
This class has helped turn the Lacrosse program into one of the most successful of all the Pacer teams, but there is still one goal that they have not been able to accomplish: a CSAC Championship. Last season the Pacers entered the CSAC Conference Tournament as the number two seed but lost to third seed Gwynedd – Mercy in the Semi Finals on their home turf, a game that has motivated the team for this season.
"Last year's loss to Gwynedd Mercy was such a disappointment for the team especially since we had defeated them earlier in the season. We felt we were the better team but we didn't play our best that day. That loss has made us even hungrier for our main goal which is to win the CSAC," said Senior Defenseman Lanny Jean.
There is another team that the Pacers will undoubtedly have circled on their schedule: Cabrini. The Pacers have never beaten Cabrini with one of those losses coming in the CSAC Championship game two years ago. Cabrini has won ten straight CSAC Championships and enters the season ranked 16th nationally in the Lacrosse Magazine's Preseason Poll.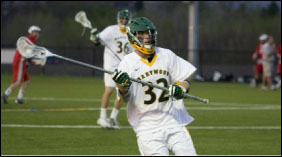 "Having played Cabrini and been chasing them for three years and every year getting closer and closer, beating them is something I personally have as a goal right under earning my degree," explained Jean.
One non conference game of note is on March 19 when the Pacers travel across town to play the University of Scranton. The team has never beaten the Royals, who won last year's matchup 8-7.
The top eight scorers from last season all return for the Pacers. Senior Attacker Nick Parks netted 25 goals while assisting on 14 others. Fellow Senior Attacker Will Roerden scored 26 goals and assisted on 13 goals. Senior Midfielder George Downey added 22 goals and finished with 10 assists. Another Senior Midfielder Jamie Beagen scored 12 goals while adding 19 assists. Sophomore Midfielder Greg Nester finished with 17 points, with 16 goals and 1 assist. Senior Midfielder Anthony Tuscai netted 10 goals and 7 assists. Two Junior Midfielders round out the top eight scorers with Joe Labella and Chris Reilly. Labella scored 11 goals while assisting on 3 goals. Reilly added 4 goals and 6 assists.
The Pacers will also have a strong defensive unit. Seniors James Drescher and Lanny Jean lead a talented group which includes Juniors Nick Johnson, Derek Sturdevant, Chris Vogel, John Pelligrini, and Sophomore Jameson Roberts. Between the pipes the Pacers will be led by Seniors Jesse Habich and Eric Luhrman. Habich started all 16 games in net while stopping 189 shots. Luhrman, who is coming off an injury plagued season made 10 saves for the Pacers in back-up action. "We want nothing more than to end our careers achieving a goal we started when our program began, to prove we are the best in the CSAC and graduating with a championship. It would be a perfect way to wrap up our college experience that no one on our team will ever forget," said Jean.