2011 Pink Game full of emotion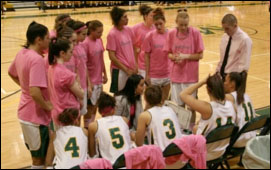 Dave Scarnato
Assistant Sports Editor
On February 10th, both the Marywood Pacers and the Keystone Giants battled not only on the court, but for a great cause. The third annual event rose close to $1000 in the fight against Breast Cancer. The Pink Zone game is inspired after the late North Carolina State University's Women's Basketball Head Coach, Kate Yow, who died from Stage 4 Breast Cancer in 2009. A proven competitor, Yow fought Breast Cancer three times before losing her battle.
In 2007, the Pink games were instilled with 120 collegiate teams sporting pink uniforms. By 2008, the number of teams reached over the 1000 mark. Now, teams almost everywhere have an event that raises funds for this cause. Junior Allison Bruet is new to this tradition at Marywood. A transfer from Broome County Community College in New York, Bruet was excited to be a part of this annual event.
"At my last school (BCCC), we did not participate in a Pink game, so this is all new to me," stated Bruet. "However, I was excited to be a part of this tradition and I had so much fun.  It is especially nice that we can play a sport that we love, as well as raise money for a great cause." The pink game was a great success. Players warmed up with Pink T-shirts, wore pink socks, pink tape, and pink accessories staking their claim in the fight.
Prior to the start of each game, Father Brian Van Fossen, Marywood's Chaplain, would lead the crowd with a moment of silence and a quick prayer honoring those lost. Then, the games began. The women's game was quite a physical one, with Marywood prevail- ing 64-49, securing a playoff spot for the Pacers. When asked about the team's performance, Mariah Schaeffer believes that the event made the team work harder.
She stated: "We knew that this game can get us into the playoffs. It was a home game. We knew that we were playing for a great cause and we got the opportunity to wear pink. We were really motivated and we played a great game. This win brought us together even closer."
Head Coach Tara Macciocco believes that this event is not only great for the community, but for future student-athletes as well. "Every year, we encourage our recruits to come and participate in this event and I think it shows the commitment our program has to supporting the local and campus community and I think they (recruits and players) really enjoy having the opportunity to be a part of something like that."
The Men's team played an excellent game as well, defeating the Giants 72-67, earning the sweep for the event. John Foreman and a healthy Matt Lepri contributed to the victory with 25 points from Foreman and a double double from Lepri.
Head Coach Eric Grundman was excited for the win: "This evening was big for our program because we beat one of the best teams in the mid Atlantic region, a local rival, a good team, and we raised money for cancer research, which mostly everyone knows of someone who is affected by this disease."
This evening was a success for the Pacers, but a somber one for the Giants. Despite losing both games to the Pacers, the Keystone community suffered an even bigger loss. Earlier that day, Dr. Matthew Grimaldi, Athletic Director of Keystone College, lost his wife Jayme to the disease. Part of the proceeds raised in this game went to the Grimaldi family during their time of need.Dr. Grimaldi was unavailable for comment. The Wood Word would like to express their deepest sympathy to the Grimaldi family.
The impact of Breast Cancer has a connection to many people. Even though there was a winner in the games, both teams came out as champions. The two schools may be rivals, but because of this cause, they become teammates in this fight. Marywood is indeed part of a great tradition.