Art director inducted into PA Hall of Fame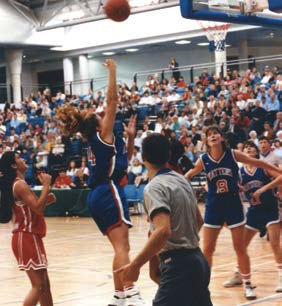 With a passion for the game, she soared from the high school basketball courts of Northeastern Pennsylvania to the professional basketball courts of England.
Now, Carrie Bowen Toomey, the art director at Marywood University, is being inducted into the Northeast Pennsylvania Hall of Fame.
"It feels great. I'm really proud," Toomey said. "I really love the game of basketball."
She began playing basketball with the neighborhood boys at a young age. "I played as a favor to my mother because my dad had no sons and she wanted me to just try it," Toomey explained. "I just was good at it. It just came naturally."
Toomey played high school basketball for Dunmore, where she hit the 1000-point mark and is still its all time leading rebounder, with 1,020 career rebounds.
Robert Walsh, president of the NEPA chapter of the Hall of Fame, grew up with Toomey's father. "I saw her play. I followed her from Dunmore to Franklin and Marshall," Walsh said. "I got a first hand look at a fabulous basketball player."
She went on to Franklin and Marshall College, a Division III school, where she was in the starting line-up all four years and was selected for the Franklin and Marshall All Time Women's Basketball team in 2003. Her team was also the MAC Southwest League Champs for three years  in a row.
"When I went there I just felt like it was the place I should be," said Toomey. "I wanted to play. I didn't want to sit on the bench at a Division I program."
Toomey decided to go overseas after college. She played professionally for the Avesta Sheffield Hatters in the English National League.
"It turned out being the most bizarre and the best year of my life," said Toomey. "They were the best team in England. It was so much fun, a great experience."
After returning from England, Toomey took some time off from the game until the assistant coach position at Bishop O'Hara opened up. Hesitant at first, Toomey decided to go for it.
"Once I got back into it, it all came back, and I'm still coaching," she said.
Toomey continues to pass on the knowledge she's learned from the game of basketball to her two daughters and the young girls she now coaches in Dunmore biddy basketball and with the NEPA Flames.
It's all about "working hard together toward something and just finding a way to work with people and being confident in what you can do," said Toomey. She says it's important to develop "a passion for something. If you're going to do something, do it right. Always give 100 percent."
Toomey will give a short speech at the induction ceremony at 5 p.m. on Oct. 14 in the DeNaples Center at the University of Scranton.