10 Questions with an Athlete: Shane Quinn, Soccer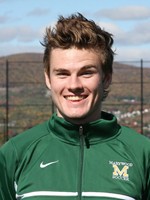 Athlete Interview
Name: Shane Quinn
Major: Health and Physical Education (Physical Activity)
Year: Senior
Hometown: Clarks Summit, PA
Sport: Soccer
1. Why did you start playing soccer?
All of my older cousins played, watching them made me want to play.
2. How long have you been playing soccer??
14 years
3. What do you do before each game to get yourself ready?
I have a few songs that I like to listen to. Other than that I just get to the locker room early so I can start to focus on the game.
4. Who is your favorite professional athlete and why?
I really like Ray Lewis, a football player with the Baltimore Ravens, because of his work ethic and the passion and intensity he has for the game.
5. What kind of music do you like to listen to?
Pretty much anything besides country.
6. How did you decide what you wanted to major in?
I just really enjoy sports and want to stay involved with them.
7. What do you like to do in your free time?
Just hang out with friends and relax, I'm not a very exciting person.
8. Describe your perfect day.
Just a day with nice weather, we don't get too many of those around here.
9. What kind of lessons have you learned through playing a sport?
The list is endless; responsibility and time management are probably two of the biggest.
10. Where would you like to see yourself after graduation?
I really enjoy the game and want it to continue to be a part of my life so I'd like to get into coaching.