Dance and Cheerleading clubs show team spirit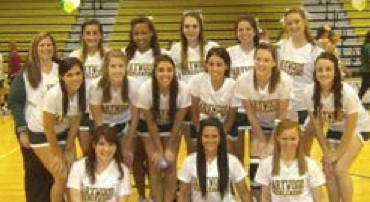 Cheerleading
Cheerleading meets for practice three times a week. The club meets Tuesdays and Wednesdays 9-11 p.m. and Sundays 8-10 p.m.
They cheer for the boys and girls home basketball games in both the fall and spring semesters.
Alexis Kirsch, freshman cheerleader, says, "Cheerleading to me isn't  just a fun way to support my team and cheer for them throughout the season, it's an awesome way to make new friends. I've met some amazing people that have made my experience here at Marywood so much more enjoyable."
Dance
The dance team meets three times a week. On Tuesdays and Wednesdays, they meet from 8:30-10:30 p.m. They meet Sundays from 5-9 p.m. as well.
The dance teams dances at Family Weekend, Race for the Cure, nursing homes, the Santa Parade in downtown Scranton, and the Easter Egg Hunt in the spring.
They have two recitals: one in the fall, and one in the spring.
They will be doing more fundraising throughout the year. They do a 50/50 raffle and also sell Avon products.
Sophomore Bridget Butash said, "It's great because the dance team is like a family. We are together so much that we really get to know each other. I love dancing and it's a really great group of girls, so it's a lot of fun. It's my favorite part of college!"