Marywood soccer earns national recognition
Ryan Jones, 3rd team academic all star
Ryan Jones, a digital media major, has been selected as a Third-Team Academic All American player by the National Soccer Coaches Association of America.
"It's incredible to have been honored with this award, but to also be the first at Marywood is an amazing thing to think of. It is an amazing honor to have received and I hope it is only a stepping stone in my path to my dream. Along with the personal satisfaction in winning this award, I believe it is also going to attract more eyes to Marywood as an institution," said Jones.
Jones has also been named to the College Scholar All-East Region Second Team and in December won the 2012 ECAC South Defender of the Year award. Jones will represent the US men's soccer team in 9th Annual World Maccabiah Games in Israel in July.
 Tony Roma, assistant coach of the year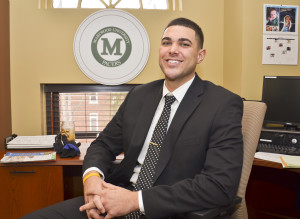 Tony Roma, an undergraduate admissions counselor and women's assistant soccer coach has been named the 2012 North Atlantic Region Assistant Coach of the Year by the National Soccer Coaches Association of America.
"I feel honored to be a part of Marywood and to receive this honor for Marywood. The great leaders I had followed are why I received this award. I've worked with great people who have taught me a great deal. It is those people, the people ahead of me, who have brought me here," said Roma.
Roma has also just won the National Assistant Coach of the Year award. There were seven other people
up for the award with Roma. Roma is a Marywood graduate.