10 Questions with an Athlete: Rachel Tollett, Volleyball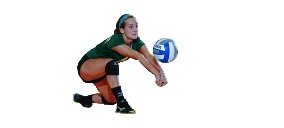 Rachel Tollett
Senior
Hometown: Jenkinstown, PA
Major: Hospitality Management
1. When did you start playing volleyball? 
I started playing volleyball when I was 9 years old, so I have been playing for almost 12 years. Sports have always played huge roles in my life, and I have to thank my parents for always pushing me to do my best.
2. Do you have any pre-game rituals before you go on the court?   
The most important pre-game ritual I have is just taking the time to thank God for the opportunity to play and for all of the support I have received from my family, friends, coaches, and teammates.
3. What music do you listen to before the game?
My pump-up music normally changes between volleyball seasons, but this season I have become a huge fan of Lady GaGa and any Lana Del Ray remix song.
4. Has any particular professional coach or athlete had a major influence on you? 
Coach John Wooden is someone I greatly admire. He was one of the most influential figures in college sports as the head coach of the University of California, Los Angeles (UCLA) basketball team. After reading his book "Wooden" in high school, it drastically changed the way I played volleyball and even how I live life.  He believed in succeeding not just on the basketball court, but in life as well.
5. What is your most memorable volleyball moment?
My most memorable moment was back in my senior year at Saint Basil Academy. My team was the underdog throughout the entire season. In order to get to the state tournament we had to beat Upper Merion who had an undefeated season and made it to states every year. We beat them in four games and it was the most exciting moment of my entire career.
6. What position do you play? And what is your job on the court? 
My position on the court is Libero/Defensive Specialist.  My job is to read the opposing team's offense and defend the back line on our side of the court.  I wear a different colored jersey on the court because it signifies that I can only play back row.
7. What is a strong point in your game?
I have always tried my best to lead my team and set a good example. A leader has to know how to deal with different people and personalities and I think that has been one of my biggest strengths as a player.
8. What is a valuable lesson that you have learned from playing volleyball? 
The most valuable lesson I have learned is that you can never achieve anything without the support and encouragement of your teammates. Volleyball is the most team-oriented sport there is and without your teammates, nothing can ever be accomplished, whether it be team achievements or personal achievements.
9. How has volleyball helped you become the person you are today?
Volleyball has taught me so much about myself. It has taught me that hard work and determination never goes unnoticed and that you must always have faith in your abilities to be better. I have met so many amazing teammates and coaches in volleyball and many whom I can call lifelong friends. I am so thankful for all those who always believed in me and pushed me to demand the best out of myself.
10. What do you plan on doing after Marywood?
After I graduate in May, I plan on living in the Scranton/Wilkes-Barre area. I hope to gain more experience in the hospitality industry within any level of management. I also hope to have an opportunity to coach volleyball. I would also like to come back to Marywood and get my master's in business administration within the next few years.