10 Questions with an Athlete: Tiffany Mathis, Diver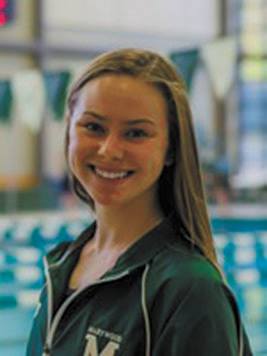 Name: Tiffany Mathis
Major: Communication Sciences & Disorders
Year: 2017
Hometown: Staten Island, New York
1. What inspired you to be a diver?
When I was younger, my family became members of a local swim club, where I joined the Swimming and Diving team. I instantly loved the sport and continued diving for many years after. Diving is a beautiful sport and there is always a challenge no matter how experienced you are.
2. What has been your favorite moment in your diving career and why?
I cannot choose one favorite moment throughout my diving career at Marywood because each time I successfully land a new dive that I have been working on, it becomes another favorite moment.
3. What is your "before meet" routine?
Before every meet, I stretch to relax my muscles and drink water to keep me hydrated. Also, listening to relaxing music helps me stay focused and keep the nerves away so I am ready for the boards!
4. What is your goal for the team this year?
My goal for the team this year is for each of us to feel confident on the boards (especially three-meter) for championships that are coming up. We have worked incredibly hard this season and I know that if we try our hardest, we will make everyone around us proud!
5. Who is your role model in diving and why?
My role model in diving would have to be my coach throughout my swim club career. Regardless of him being a wonderful coach in general, he made me realize how much I really love diving and he allowed me to believe in myself while on the boards.
6. What do you like to do in your free time?
During my free time, I enjoy spending time with my friends, listening to music, and exercising. I am always trying to motivate myself to keep in shape whether it be through diving, working out, or eating healthy.
7. Do you think diving has influenced your personality?
Diving has definitely influenced my personality because it has allowed me to have a more positive outlook on life. Diving requires confidence and a good mindset because any little negative thought can contribute to your performance on the boards, so I always try to think positively and be happy!
8. If you could dive anywhere where would it be?
I would absolutely love to go to a tropical place like Hawaii and go cliff diving. Diving off a cliff would be so exhilarating and definitely an amazing experience.
9. What kind of lessons have you learned through diving?
Diving has taught me to always have confidence in myself and in what I can achieve. It's a sport where you have to have complete faith in yourself.
10. Where would you like to see yourself in ten years?
I hope to be employed as a speech pathologist and work my way towards my goal of having my own successful private practice in speech pathology. I would love to continue diving, but I know that it would be hard to find a place where I would easily be able to.