Baseball Preview: How far can this Pacer team go?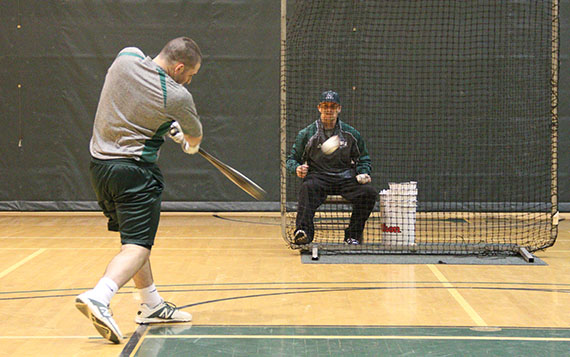 As the days get longer and temperatures rise, the anticipation for baseball season is unmatched. With that anticipation, comes high expectations for the Marywood baseball team, its players and coach say.
Last year, the Pacers finished the season 13-17, with only five wins in the Colonial States Athletic Conference (CSAC), placing them sixth overall.
But second year assistant coach Jason Thiel's expectations do not mirror last year's sub-par finish.
"Anything short of the playoffs this year would be a disappointment for us," said Thiel.
The Pacers are not far off from their playoff run in 2012. That team finished 9-9 in the CSAC, and reached the Semifinals of the Eastern College Athletic Conference (ECAC) playoffs before losing to Wesley College.
Sixth-year Head Coach Jerry Davis led that 2012 team and doesn't see how this team is missing the playoffs.
"I don't see very many weaknesses, if any at all," said Davis.
The coach instead sees an incredibly balanced team for this season.
"I think we are going to be really strong offensively and defensively. We also have great pitching," said Davis.
The great pitching Davis refers to is led by the team's most valuable player in 2014, Joseph DiLoreto. The left-hander, senior architecture major, posted a team best 1.62 earned run average (ERA) in eight appearances last season.
"We look for and expect big things from Joey," Thiel said.
In terms of fielding and hitting, both coaches agree that second baseman Vince Rebar is the player to watch.
Rebar, junior business management major, received honorable mention all-conference player. In 18 games for the Pacers, Rebar led the team with a .541 slugging percentage. He combined that with a .966 fielding percentage.
Although a hamstring injury last year shortened Rebar's season, Thiel is confident he can bounce back. "For him to come back and play a full season, I think he is going to be a player to watch not only on the team but in the conference as well," Thiel said.
Another big key to the Pacers success is Eric Pulkkinen,  junior business management major, who plays a variety of positions including center field, shortstop and pitcher. Pulkkinen doesn't mind moving from position to position.
"I'll go wherever coach [Davis] needs me," said Pulkkinen.
Pulkkinen was named First Team All-CSAC last year and led the team with a .380 batting average in all 30 of the Pacer games. He said this team can't take any individual or team success for granted playing in the CSAC. "We have to worry about every single team," Pulkkinen explained.
Davis echoed those remarks, saying that the CSAC is "very very deep." He went on to highlight two big threats for the Pacers.
"I expect Keystone College and Newman University to be the biggest challenges in the conference this year. Both teams have an enormous amount of depth as well as great pitching," said Davis.
Both Keystone and Newman have made the playoffs each of the last four seasons, with Keystone finishing first in the CSAC every year.
"It's always a good measuring point to see where you are at when you play Keystone," said Theil.
But Thiel stressed that the conference is loaded overall, not just Keystone.
"The CSAC is deep all the way through, there is really no nights off," said Thiel.
In order for the Pacers to keep pace in the CSAC, they have to rely on the fundamentals. This team thrives off "small ball" techniques on the field, Thiel explained.
"We have to be able to put good at bats together and move base runners, put some pressure on the defense," said Thiel.
Davis said that the team is a lot like the major-league St. Louis Cardinals. "We are strong defensively. Even though we have a lot of power hitters, we look to bunt and play small ball."
Last year the Pacers showcased the ability to move runners with two of their players reaching 10 steals and another player snatching up eight bases.
Thiel said every Pacer baseball team always looks to excel in the intangibles of the game — the things that cannot be measured in statistics or play on the field. He said he tries to instill these "off the field values" as readily as the sport's fundamentals.
"I try [to] teach my players to respect the game and respect the opponent. I let them know that they are representing the university both on and off the field," said Thiel.

Davis also stresses intangibles like a great work ethic.
"Show up on time and play hard. Play smart, play hard, play with confidence, and never quit," Davis explained.
Outfielder Mark Sherlock, senior architecture major, echoed his coaches' sentiments when talking about the most improved part of the team from last year.
"It has to be attitude. We have a new positive attitude from this group of guys," said Sherlock.
Earlier this month, Sherlock and his teammates made their annual trip to Florida. It's a trip that all of the players have looked forward to, especially after a long winter. Sherlock says that a lack of field time is the biggest challenge facing the team this season.
"Being indoors stinks, but you have to work with what you have," said Sherlock.
The Florida trip was also an incredibly significant time according to teammate Pulkkinen.
"Getting to play actual games is the most important thing," Pulkkinen said.
But, for the coaches, especially Davis, this trip was crucial in understanding how he is going to use his players this season.
"By the time we get back from the Florida trip, everyone's role on the team has been defined," explained Davis.
Players and coaches alike say their confidence going into the season is high, despite the challenges posed by a loaded CSAC conference.
"I am certain that this team is going to be very successful," Coach Davis said.
Contact the writer: [email protected]