10 Questions with an Athlete: Cory Callejas, Basketball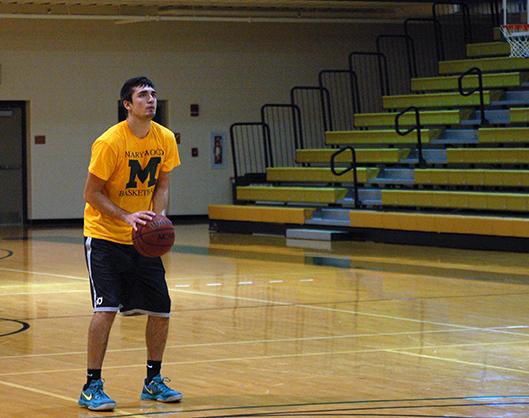 Cory Callejas
Major: Communication Arts/Digital Media
Year: Junior
Hometown: Archbald, Pa.
When did you first start playing basketball?
As long as I can remember really. Basically, as soon as I was born a basketball was placed in my hand. My earliest memories are in the gym shooting with my dad.
What is your favorite part about playing basketball? 
My favorite part about playing basketball is when all the work outs you put in, all the hard work and preparation into a game pays off by being successful. It is feeling of success after the hours of work you put into it.
Who is your favorite NBA basketball player and why? 
Steph Curry, because he was overlooked in high school in favor of the bigger guys. A lot of people wrote him off because he was skinny. He just fought hard through all the negativity and believed in himself.
What was it like being coached by your father? 
He only coached me two years in high school, but it was a great opportunity with all the practices and the advice he gave me throughout the years. When i was young, playing against the older kids on the team he was coaching helped a lot, too. That is when i really fell in love with basketball.
What is the biggest challenged you faced playing basketball?  
The biggest challenge I face is my lack of speed on the court. I'm a bit slower, so I need to adapt my game to compete at a consistent level. I have to find ways to be successful without being quicker than a lot of people.
What is the biggest difference between high school and college basketball?
High school basketball is definitely a lot slower and the athletes are not as good yet. Especially playing around here compared to other areas, once you play in college everybody is a lot bigger and the game speeds up.
What is your biggest strength on the court? 
I would say that my best weapon is being a shooter. It has been my strength pretty much my whole life.
Which NBA player would you least like to face and why? 
Definitely LeBron James, because he's very hard to guard and he is an excellent defender. He's built almost like a football player being very big and strong.
What has basketball taught you about life? 
It teaches you how to work together with people and get along with them. But, I think the biggest thing that it teaches you is that hard work pays off. If you want to be successful in any aspect of life, you need to work hard.
What do you plan on doing after Marywood? 
I would like to get a job in my major. Whether it is broadcasting, writing for a newspaper, or doing camera work, I want to be involved with sport one way or another.
 Contact the writer: [email protected]