ESPN suspends Curt Schilling indefinitely after Twitter controversy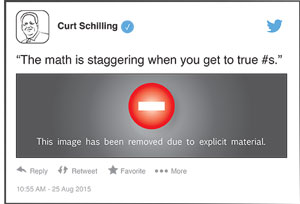 Throughout the history of sports, many athletes have been torn down for various different reasons or offenses. No matter how good of a player, one mistake can go a long way in defining an athlete's entire career.
From incidents such as Mike Tyson biting Evander Holyfield's ear off to DUI arrests, athletes are always prone to lose it all in a split second. Curt Schilling is the latest example of this after being suspended indefinitely for a controversial retweet.
Curt Schilling is a legend in the minds of many baseball purists. This is mainly because he was never convicted or even accused of taking performance-enhancing drugs (PEDs) in an era properly coined the "Steroid Era."
Not to mention, he is a three-time World Series champion and six-time All-Star.
Most recently, Schilling was a part of ESPN's Baseball Tonight crew. He was hired as an analyst to lend his expertise on current Major League Baseball (MLB) pitchers and every aspect that goes into that part of the game.
Unfortunately for Schilling, an avid user of Twitter, that career ended a month ago after a very controversial retweet.
Earlier, he earned praise for going after two men who made very disrespectful and unspeakable comments toward Schilling's daughter, Gabby.
But now, the same platform he was praised for using the 'right' way became his ultimate downfall.
Schilling retweeted a tweet that stated: "It's said that only 5-10% of Muslims are extremist. In 1940, only 7% of German's were Nazis. How'd that work out?" In the background of the tweet was a picture of red-tinted photo of Adolf Hitler.
Schilling went even further and responded to the tweet by saying, "The math is staggering when you get to true #'s." Schilling also shared the photo on his Facebook page.
Schilling was immediately suspended by ESPN for the controversial retweet. Schilling issued an apology saying "that it is 100% my fault."
"To be quite honest, that statement is something I do not think you can recover from and ESPN had no choice in the matter," said Sherry Frable, public relations coordinator at Marywood. "They needed to suspend him immediately. It was a no-brainer to me."
From an athletics stand point, Tara Macciocco, the women's head basketball coach said that she wants her athletes to post only positive things about the university and the program.
Additionally, Macciocco made a special request to players this season about Twitter in particular. "I've asked them to follow me on Twitter so I can follow them back. It is not that we are keeping an eye on them, but, if something positive does happen, we can promote it."
Even though there is a social media policy on the Marywood Athletics website, Macciocco believes that a protocol should be put in place in case an athlete does misuse social media.
"I would make sure that I call them in my office immediately addressing the situation head on to find out what provoked them to do something like that." said Macciocco.
Although, both Macciocco and Frable say that they have not seen nor have been a part of too many incidents of students or faculty misusing social media; they are both aware of the consequences that can come with it.
"The advice we always give them is that what you put out there should be something that your family can be proud of. Think before you tweet, share and post," said Macciocco.
Contact the writer: