Marywood cross country looking to make a statement in 2016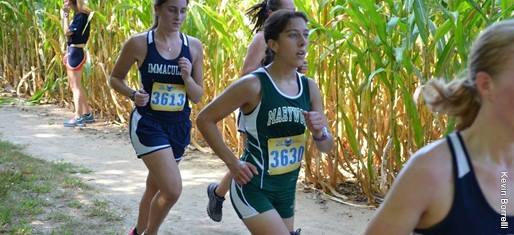 For the last decade, Marywood University's cross country teams have been a threat in their conference.
Through both determined senior leadership and a strong incoming class, both the men's and women's teams are out to prove that nothing has changed, said the team's coaches Ethan Senecal and Kevin Borrelli.
Senecal, the head coach of both the men's and women's cross country teams, had high expectations of the women's team.
"We are looking to use a good balance of returners and young talent to really help us continue to win," said Senecal. The returning runners are coming off a successful season, taking home a Colonial States Athletic Conference (CSAC) title, however, last year's top runner, Emma Doughman, was lost to graduation. In her absence, the two new senior captains Josée Gallant and Alexis Namyak have stepped up to the challenge of replacing one of Marywood's most decorated runners.
Gallant, a nutrition and dietetics major, was selected to the all-conference second team last season, and sports a sub-23 minute time in the five-kilometer distance event in 2015.
Namyak, a senior exercise science major, was part of the CSAC all-academic team last year, and has a sub-24 minute time in the five-kilometer race last season.
Another top runner on the women's team is Kelby Cole, who is the fastest of the three with a 19:45 five-kilometer time.
The upperclassmen on the team are strong leaders as well, according to Senecal.
"I think both of them [Gallant and Namyak] have done a really great job of stepping up and just trying to teach the younger players what is right and wrong," said Senecal.
As for the incoming talent, the two freshmen to watch, according to the head coach, are Katie Bennett, a nutrition major, and Stephanie Juarez Ventura, a graphic design major. Senecal expects both women to have good seasons on both the cross country and track teams. With all of the women's team's assets, Senecal is confident in the team's ability to bring another CSAC championship home.
"There is a strong possibility we can repeat [the CSAC win] and that is the expectation," he said.
The men's team is ranked second in the preseason CSAC rankings, just behind Cairn University, who were last year's champions.
"They are very excited to compete for a title, we have been second for many years," said Assistant Coach Borrelli.
The men's squad has just eight members, but that hasn't stopped them from being one of the top teams in the conference.
Junior Captain Devon Clarke, an architecture major, is ready to lead the team to a conference win this season, according to Borrelli. Clarke had a time of 28:04 in the eight-kilometer event last season.
Other key members on the team are Adam Larsen and Chris Golembeski. Larsen, a senior athletic training major, posted a time of 28:08 in the eight-kilometer race. Golembeski, a junior aviation management major and transfer from Penn State's main campus, is also expected to make the first or second all-conference team.
"Cairn returns everybody but one person, so we got our work cut out for us," admitted Senecal. "But, I feel that the top five this year is better than last years."
Although the team is ranked below Cairn University's squad, the confidence among the team is high, and the team has the ability to take the top spot by the end of the season, according to the coaching staff.
For Senecal, the difference between this year and last has been his ability to recruit. "This is only my second year here and when I came in there was virtually no recruiting that was done. I wasn't left with any freshmen," said Senecal. "I just think recruiting helps get the word out there that Marywood has a cross country team and we're pretty good."
Both the men's and women's teams travel to Poughkeepsie, N.Y. for the Vassar Invitational this Saturday at 10 a.m.
Contact the writer: [email protected]