SPORTS BRIEF: Women's tennis blanks Cedar Crest in CSAC opener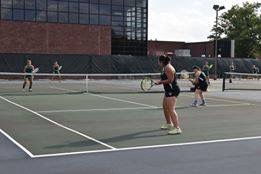 Marywood University's women's tennis team swept Cedar Crest College 9-0 in the Pacers' first Colonial States Athletic Conference (CSAC) match Tuesday afternoon. The team is now 2-0 on the year.
According to marywoodpacers.com, Abygail Doud, a sophomore architecture major, and Kristen Lambert, a graduate student studying interior architecture, won 8-6 against Cedar Crest players Taylor Doran and Jamie Wojciechowski in top doubles.
Number two doubles Danielle Ogonowski, a freshman pre-physician assistant major, and Avery McCall, a senior social work major, won 8-1.
Leah Dinsmore, a junior art therapy major, and her doubles partner Melanie Kobela, a senior Spanish education major, easily defeated their opponents 8-0. On Monday, Kobela also earned the season's first CSAC Player of the Week award.
The Pacers continued the shutout in singles play. Doud won a tight first set 7-5 before cruising to a 6-1 win in set two. Ogonowski won 6-1, 6-0 at two singles.
McCall was a 6-0, 6-2 winner at three singles and Lambert defeated her opponent 6-1, 6-0 at four singles.
Kobela beat her Cedar Crest opponent 6-0, 6-1 at five singles, and sophomore Nicole Sinclair, an early childhood/special education major, took care of business 6-1, 6-2 at six singles.
The Pacers host Gwynedd Mercy University in a rematch of the 2015 CSAC championship on Friday at 4 p.m.
Check back with The Wood Word as we cover all Pacer home games.
Contact the writer: [email protected]