Women's cross country repeats as conference champions
The Marywood University women's cross country team repeated as Colonial States Athletic Conference (CSAC) champions at the ChesLen Preserve on Saturday, Oct. 29.
According to marywoodpacers.com, the Pacers claimed their sixth conference championship in the past seven seasons and 12th title overall – more than any other program at Marywood.
Marywood topped Centenary University by 51 points. Cairn University finished in third place and the Immaculata Mighty Macs came in fourth.
The Pacers' number one runner, junior Kelby Cole, finished second overall in the 5K course with a time of 21:20.6 with a pace of 6:53.
Despite her best performance at a conference meet, Cole finished behind Centenary University's Priscilla Ortiz, who crossed the finish line with a time of 20:07.3. Ortiz snapped the Pacers' streak of five consecutive individual championships.
Second-year head coach Ethan Senecal spoke highly of Cole's performance and her progression throughout the season.
"Kelby has been great all year. She has been our number one from the start," Senecal said. "I think it might have been a tough transition for her because last year she was our third runner – so she really did a great job of stepping up."
Senecal, who was named CSAC women's cross country Coach of the Year, reflected on how the championship was ultimately a team effort. "On the women's side, It was a complete team effort. We had some solid performances all the way through our top five," said Senecal.
As a team, Marywood had four runners in the top 10. In addition to Cole, freshman Katie Bennett came in third (21:29.3), senior Josee Gallant finished eighth (22:09.6), and freshman Stephanie Juarez Ventura rounded out the group in ninth place (22:16.4).
In fact, a big key to the race for Senecal was getting as much runners in the top five as possible. "For both [Cole and Bennett] to beat the fourth place Clarks Summit runner has been a really big accomplishment that we have been talking about going into the weekend quite a bit," said Senecal.
Bennett, Gallant, and Ventura also set new personal records. Gallant missed a First Team All-Regional run by four seconds.
In preparation for the ChesLen course, Senecal spoke of "the hill," a half mile steep hill leading to the finish line, as being a big challenge for all the runners going in, but being at Marywood helped the team get ready for it.
Senecal also said that the course was "the hardest I have seen in my coaching career" so the prepping the team needed to reflect that. "Every Monday we worked in hill sprints and, as the season got to the end of the year, we worked on longer hill sprints. Going into the race we knew we needed to beat the people on the hill. That is where we were going to shine so we it preached all year and then we executed," said Senecal.
The team now focuses on the NCAA Mideast Regional on Nov. 12 in Center Valley at DeSales University. Senecal described the course as "nowhere near as hard" as ChesLen, but is challenging his runners in a different way.
"This week the goal is just to get out there and represent Marywood as best as we can. There is no real pressure on them to do well," said Senecal.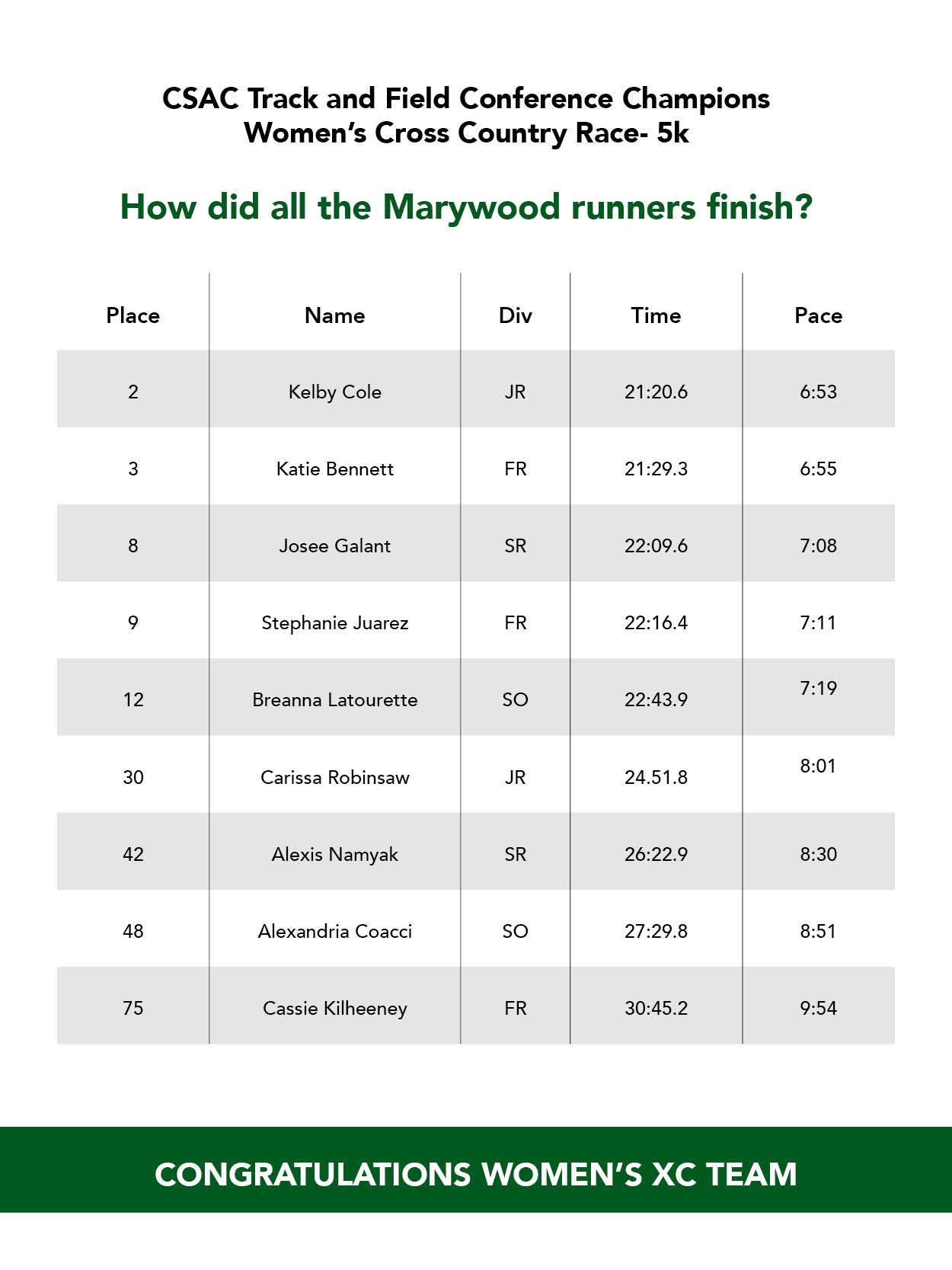 Photo credit/ Elizabeth Carlson
Contact the writer: [email protected]
Twitter: @JohnFerraro21