Marywood adds rugby; hopes for new revenue, minimal cost
May 10, 2017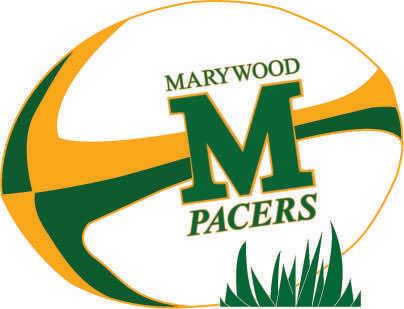 Once a rumor. Then an idea. Now a reality.
The administration made it official in February. Rugby is coming to Marywood University.
In a statement on the Marywood Pacers' website, Director of Athletics and Recreation Dr. Mary Jo Gunning said, "Adding men's and women's rugby provides student-athletes from a wide geographic area the opportunity to compete in a growing sport that might not otherwise be available to them."
Marywood University's President, Sister Mary Persico, IHM, Ed.D., made similarly positive remarks about Marywood's new venture.
"The addition of rugby teams to our athletic program is another way of supporting our students who want to supplement a quality education with opportunities to develop themselves in body, mind and spirit," said Persico.
But what does it all mean? How will it financially impact Marywood?
What impact will a new varsity sport have on the Athletic Department?
Financial impact and projections
Over the past few years, Marywood has gone through both financial and structural changes with hopes to save money through a Strategic Resource Allocation (SRA) process. Most recently, the restructuring process reduced the number of colleges from five to three, a move that potentially will save Marywood $450,000.
While administration is looking to save money, they are also looking to increase revenue.
According to Vice President of Business Affairs Tammy McHale, adding rugby will bring new revenue to Marywood.
The release of the final report from the SRA process recommended possible cuts to different areas of the university. However, McHale said the resources that will be designated for the rugby program will be offset by the additional revenue increase from new student-athletes.

Graphic credit/ Elizabeth Carlson
Controller and Assistant Treasurer Pat Castellani also worked to figure out the financial projections of adding rugby as a sport at Marywood. Castellani said there is a first-year cost of around $120,000 that will go toward hiring a coach, along with recruitment and marketing efforts.
McHale said Marywood's financial situation cannot be fixed by solely cutting costs.
"As we went through the SRA process, we did a lot looking at cost cutting and what things should we take away, but you also have to look at the revenue side," said McHale.
The addition of rugby, she explained, will not take any resources away from other departments.
Athletics helps increase the total number of student enrollment, which increases Marywood's revenue, said McHale.
Castellani added that by bringing in more students, rugby will produce extra revenue.
McHale explained that coaches help recruit students who may not have known about Marywood.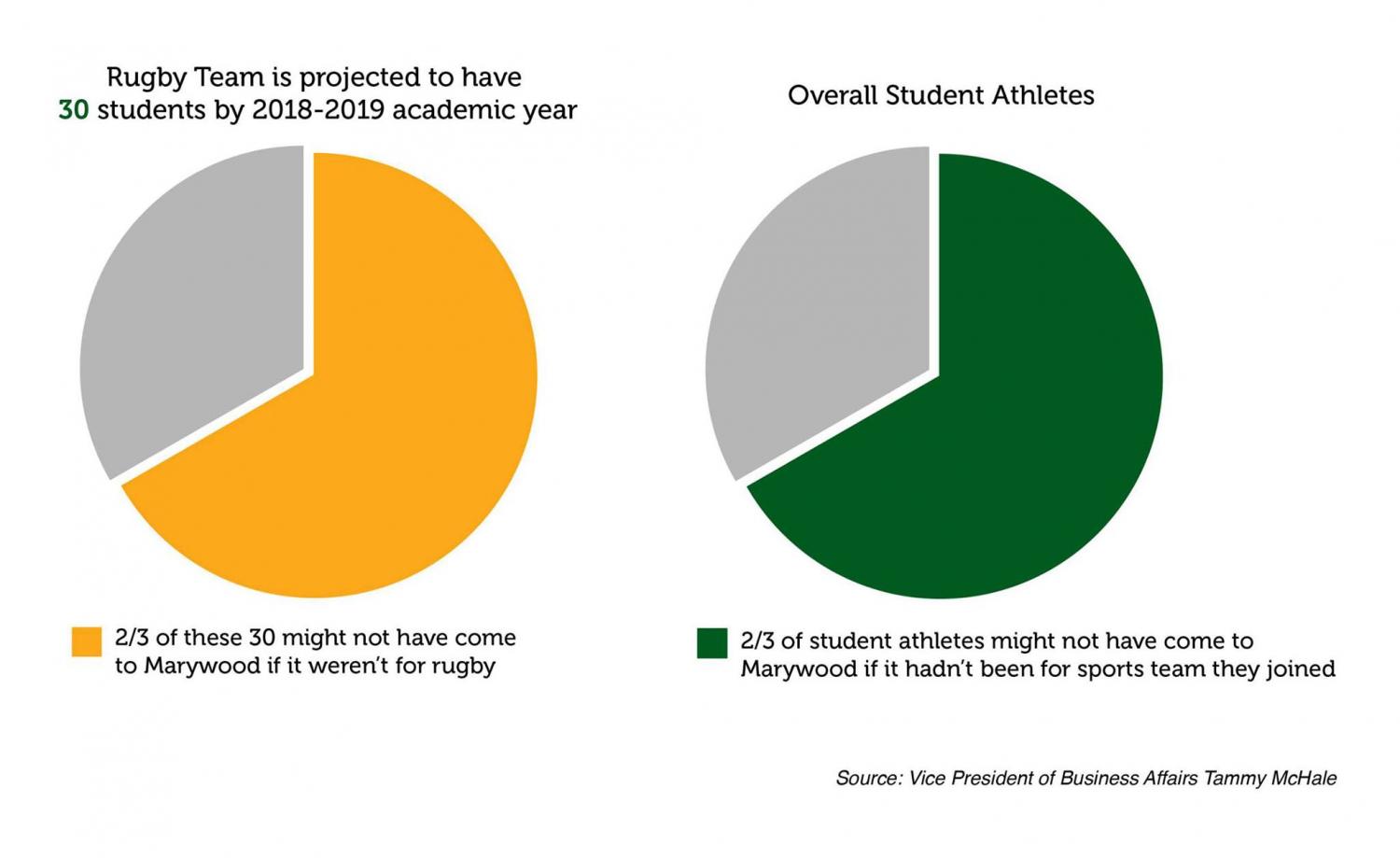 Photo credit/ Elizabeth Carlson
"What we think is about two thirds of the rugby team … are probably students who might not have come to Marywood otherwise," said McHale.
Additionally, McHale said student-athletes have a higher retention rate, a higher graduation rate, higher GPAs and are more likely to live on campus compared to the rest of the student body, which all can be of a financial benefit to the university.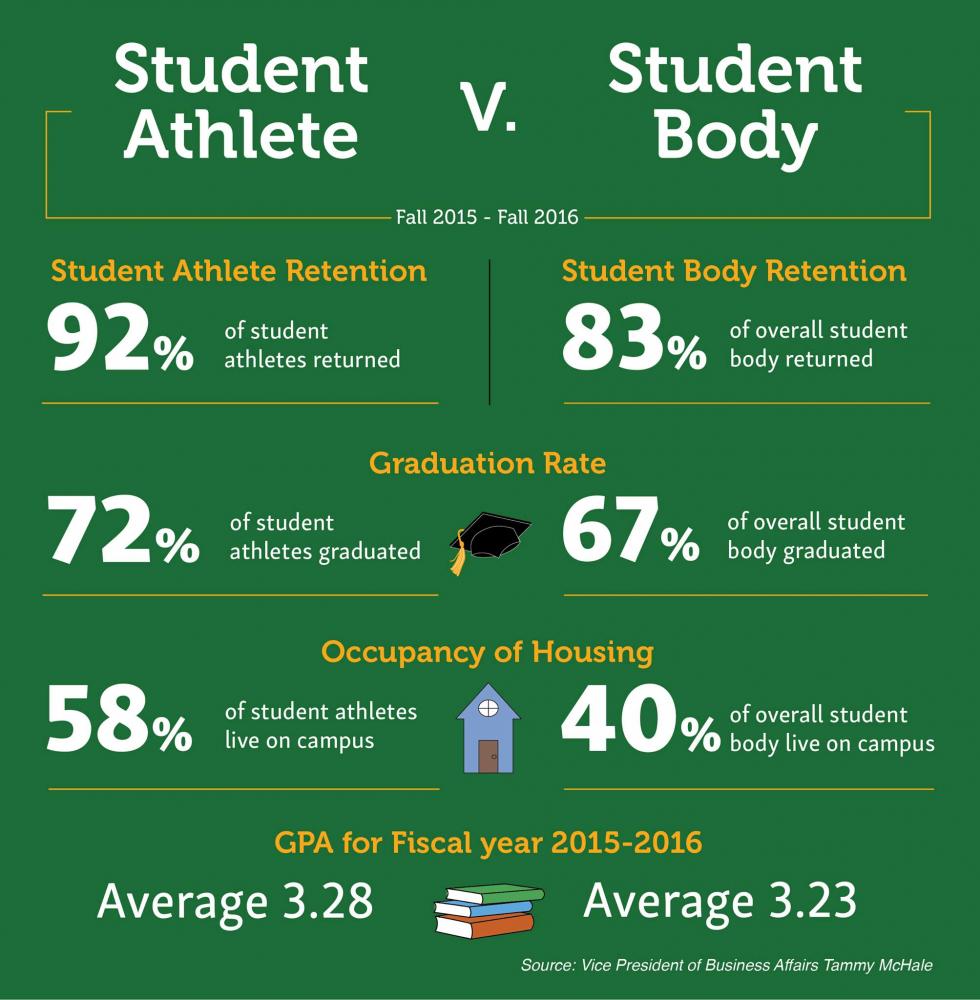 Graphic credit/ Elizabeth Carlson
Because Marywood is a Division III school, athletic scholarships are not available to students, which means there will not be any costs to provide incentives for prospective rugby players through scholarships, said Castellani.
"The whole thing is good for Marywood all around," said McHale. "We recruit good students, it helps us financially [and] it helps us retain those good students."
Athletic outlook
The addition of men's and women's rugby teams will bring the number of Marywood varsity sports to 22.
Because rugby is not as popular as American football on a national or even global scale, some students may be curious as to why Marywood didn't add football as a new sport.
Football, thanks to the television and advertising market domination of the National Football League (NFL), is considered the most popular sport in North America.
According to an article written in 2016 by Steven Kutz at Market Watch, the NFL topped all other sports leagues in revenue at $13 billion for the 2015 to 2016 season.
While the NFL is the most financially dominant sport in the world, that does not mean it would be financially beneficial for Marywood to add it, according to Assistant Director of Athletics and Recreation Eric Grundman.
According to Grundman, one of the main reasons for not adding a football program is the startup cost.
"If we were to start football, we'd have to build a football field. We'd have to hire a defensive coordinator, an offensive coordinator, a head coach and positions coaches," Grundman said. "Equipment. Insurance would likely be significantly higher than football because it is more contact than rugby."
In contrast, costs to start a rugby program are lower. Marywood would have to incur the cost of just one head coach and two part-time assistants. There would be no extra cost in constructing a field, said Grundman.
He confirmed that the grass field next to the tennis courts would be the ideal location for the rugby team.
Jason Edsall, director of athletic training education, mentioned he has some minor questions about the field being up to official regulation.
"Rugby is 120 meters long by 80 meters wide. I don't know what the dimensions are. However, USA Rugby, the National Small College Rugby Organization (NSCRO) and some of the other organizations including the Mid-Atlantic Rugby Conference (MARC) … can come in and say this is a usual size, we can play on this, it is not a big deal," said Edsall.
Edsall said that even if the field is not ready, there are easy steps the university can take to get it there.
"The only thing that is really missing over there is some field paint and a couple goalposts. It is very easy to set up and take down for rugby," said Edsall.
Marywood has time to prepare the grass field for rugby since the first games will not be played until the fall of 2018.
But, a decision about a head coach is going to be made much sooner. July 1, 2017 to be exact.
Grundman laid out a full timeline for the hiring process, the beginning of play and the projections of student-athletes involved in rugby.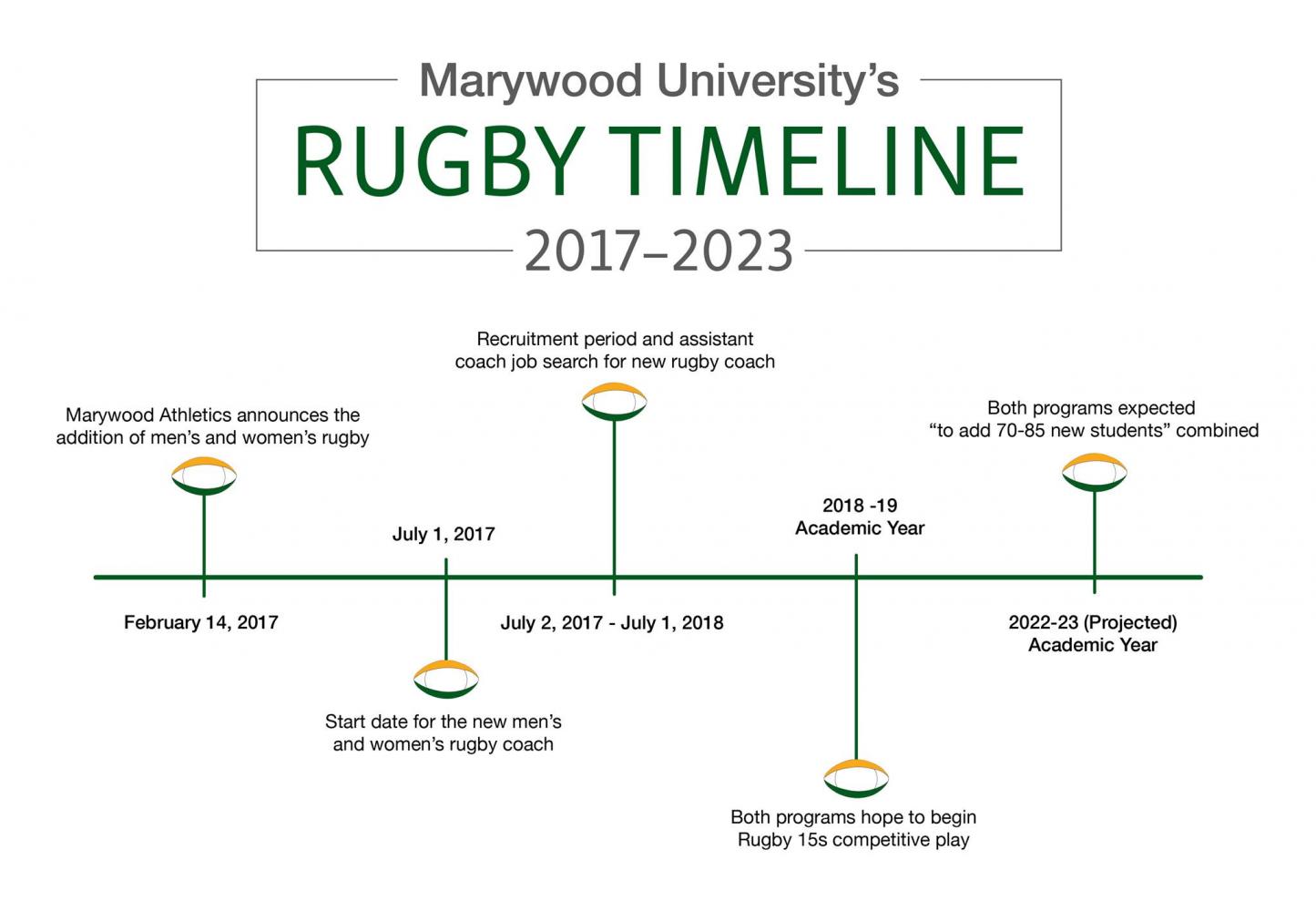 Graphic credit/ Katlynn Whitaker
According to Grundman, the search for a coach began months ago and the interest for the position is very high.
"We've been contacted by people from England, Canada, South Africa, New Zealand and Australia," said Grundman.

Graphic credit/ Elizabeth Carlson
Grundman sees that international interest in a coaching position from these various countries "could also increase our enrollment internationally."
Whichever candidate is selected, that individual will have one calendar year to recruit players and hire an assistant for both the men's and women's team.
Grundman added that the eventual head coach would also have administrative responsibilities as well.
"[He/She] will have other job responsibilities within the department, primarily assisting our assistant athletic director and director of sports information and marketing," Grundman said.
Grundman said he hopes that the new coach taking on these different roles will "lessen the burden on department staff and personnel, specifically sports information."
Recruitment, development and challenges
Recruitment is a crucial part for any varsity sport on any level. So, where are these players going to come from?
Grundman said that recruitment will be left up to the new coach, but he did give some insight about the strategy going into the process.
"We're going to focus on pockets. Anywhere we can draw interest from someone who might be interested in gaining a quality education, a social experience that is educational as well and who want to participate in rugby," said Grundman.
He also mentioned that Marywood will look to local high schools that have strong football programs, specifically on the men's side.
"We could go to the local football programs and have our rugby coach talk to the local football coach and their teams at Dunmore High School, Scranton, Lakeland and indicate to those football players who are not being recruited to play football that we are starting a rugby program at Marywood," said Grundman.
Edsall broke it down even further. He said that half of the players are going to come from local high schools while the other half will most likely be within a 200-mile radius.
"I do see a large pool from New York, Pittsburgh, Philadelphia, both the areas of Annapolis and Baltimore, Maryland and Virginia," said Edsall.
Grundman said he does not want to stop with just the recruitment process. He wants to work with the head coach to create a movement.
"We also envision and we will charge this head coach with going out to the local communities in NEPA and begin to develop a grassroots program where we can build rugby and expand rugby in NEPA to bigger than what it already is," said Grundman.
The University of Scranton pioneered the launch of a local rugby program. Scranton's programs currently have 40 men and 33 women. Grundman said he hopes to see similar numbers in the future.
He projects that "within the next four to five years," Marywood will add 70 to 85 new students via rugby.
But, how are these players going to be developed moving forward?
Edsall said that developing players at the college and university level will be an ongoing process for the coaches.
"Whether you started playing at eight and you learned those skills, you start at 18, or you start at 38, it's a learning process," said Edsall.
However, according to Edsall, with that development may come some extra costs because of the lack of facilities for 22 teams to share.
Addition of new facilities
"I think the biggest drawback is going to be space allocation. As of right now, locker room space here is very limited. You walk downstairs [and] there are four locker rooms they're sharing for sports," said Edsall.
Also, because rugby is a dual-season sport with Competitive 15s in the fall and Small Side 7s in the Spring, it could have a more profound effect on the limited space for all of the teams.
"It's a sport that is going to be in both sides of the season, so [there] is going to be more athletes in the weight room, more athletes across the board. My question and my reservation is how do we handle that influx of numbers," said Edsall.
According to Edsall, one solution might be to create a brand new complex for a few of the outdoor sports such as lacrosse or soccer in the next few years.
"I think what is eventually going to need to happen is space to be built down at the field house down by the turf field in front of the complex." Edsall continued, "I think if we can find funding and find money in the budget whether it's the next year, two years, three years, whatever, is to at least have some foresight to realize it's going to happen, to put some of the sports outdoors."
According to McHale, there are no initial plans to create that extra space.
"We won't be doing that initially; it could be that over time we look at something like that but none of that has been built into the financial projections at this moment," said McHale.
With the hope of bringing in dozens of new student-athletes over the next few years at a minimal expense, both McHale and Edsall said they hope the money will come back into athletics to allow Marywood to complete some of these projects.
"We are doing [rugby] in a very unique way; in a way that the institution is fully committed to the program in respect to funding it and hiring a full time coach. Very few people, if any, are doing it the way we're doing it in a full-time capacity," said Grundman.
Contact the writers: [email protected] [email protected]
Twitter: @JohnFerraroTWW @RLookerTWW