FEATURE: Nicholas Biondi's emotional journey to the top of the conference
Nicholas Biondi led by just three strokes going into the final day of the 2017 Colonial States Athletic Men's Golf Championship at Bellewood earlier this year.
Cabrini University's David Gall and Joseph Myers both shot a 75 in the first day's action and hoped Biondi would make a few errors down the stretch of Day 2 to knock himself from the top spot.
Collegiate and professional golfers know the back nine is crucial. Even some of the world's best fail there.
Biondi, however, rose to the occasion.
At 2-over heading to the back nine, Biondi parred the 10th hole but faltered at 11 with a double bogey, dropping him to 4-over.
That's when the junior Business Retail Marketing major locked in. He parred six holes and birdied another. But he still didn't know if it was good enough.
Having finished nearly an hour before the other golfers chasing him, Biondi felt consumed by uncertainty as he left the course.

It was good enough. Biondi had captured his first individual championship of his collegiate career.
The win was ultimately bittersweet.
It wasn't because his team fell short of capturing its third-straight team title or that he could have shot better.
It was because he had lost someone who introduced him to the game. Someone who acted as a role model for him. Someone Biondi wished was there to share in the victory.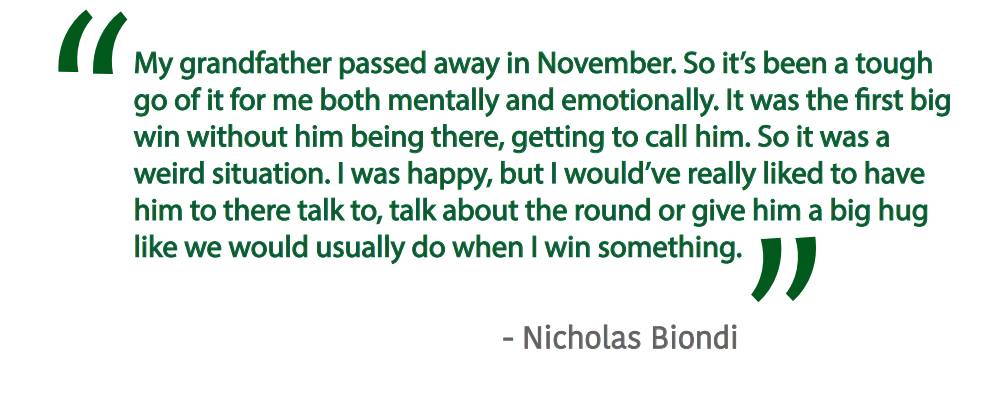 Biondi vividly remembers his grandfather showing him the ropes as a youngster.
"The first time I remember picking up a golf club was probably around seven or eight years old with my grandfather. He was a really good golfer and [he] got me into the game," said Biondi. "That was really the genesis of my golf career, banging golf balls around in the yard with him."
Just two years and many backyard golf sessions later, Biondi started playing competitively.
"I remember my name being announced over the loudspeaker on the first hole and I was as nervous as I could be. I almost couldn't tee the ball up. It was a different kind of rush, but I loved it," Biondi explained.
Biondi continued his golfing career in high school at Scranton Prep.
Although Biondi placed fifth in Pennsylvania Interscholastic Athletic Association (PIAA) State Golf Championships, he admits something was lacking.
"I just didn't quite do it there. I wasn't a complete player in high school. I was solid, but wasn't what I wanted myself to be," said Biondi.
That is when Eric Grundman first saw Biondi.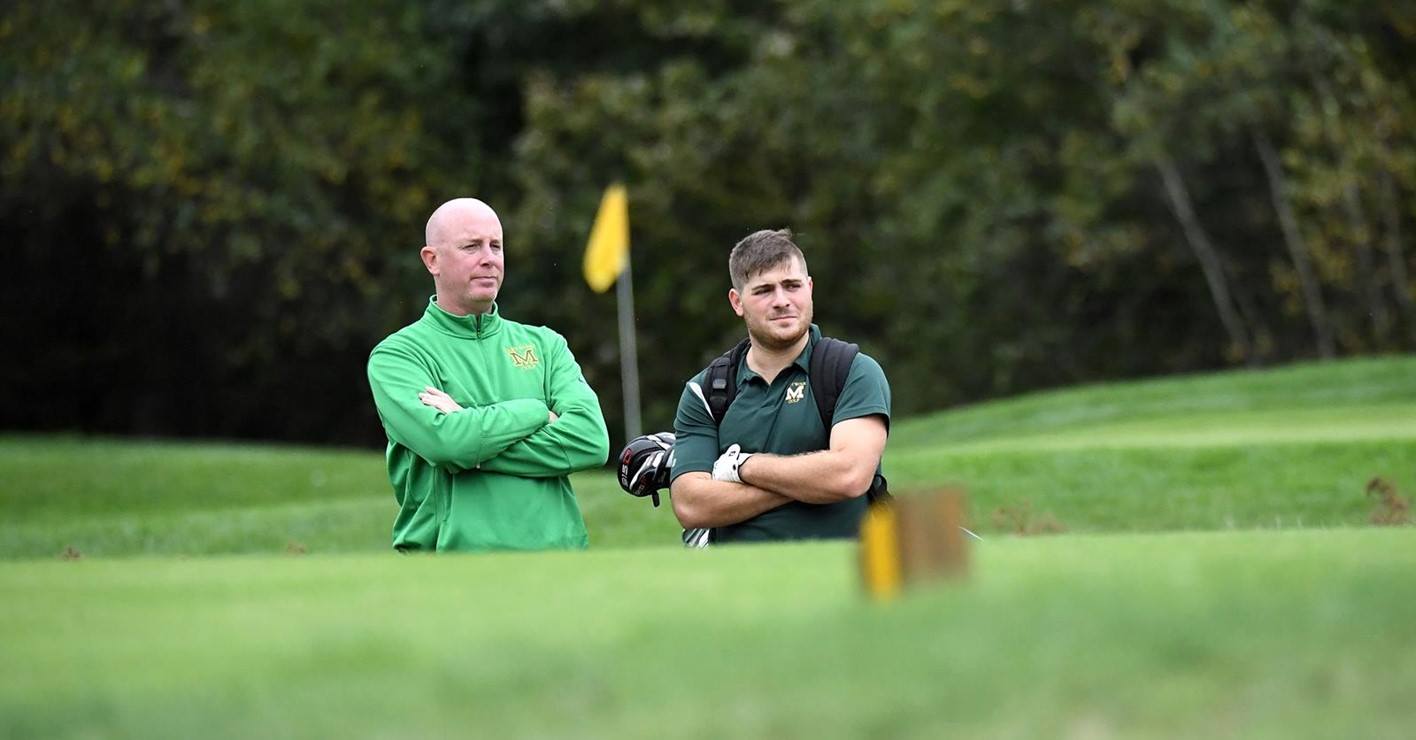 "I met him at the district tournament during my senior year of high school," Biondi continued. "He was walking down the fairway. I saw him but didn't really know who he was. I knew he was a coach because he had all the Marywood gear on. I just said, "Hey, what's up, coach?" We walked and talked a little bit. We had a nice little exchange that day. We shared contact info. That was about it. It was the beginning of our relationship," said Biondi.
Ironically, Marywood was Biondi's first choice. He wanted to stay close to his grandparents and also liked what the university had to offer him academically.
With Grundman's help, Biondi has improved every year.
"Since Nick's freshman year, he has matured both physically and mentally," said Grundman.
Grundman has seen improvement in Biondi's golf swing and tempo, strength and flexibility and the "ability to mentally process his way through a round of competitive golf."
All of Biondi's work paid off with the championship victory at Bellewood. But just as it was an emotional moment for Biondi, it was as emotional for his head coach.
"It was hard to not be emotional for this young man, seeing him become our conference champion and knowing that it was truly in honor of his grandfather, who I have to say was an incredibly special human being," said Grundman.
His grandfather was so special to him that Biondi took his name.
"Knowing that he had changed his name from Nick Johnson to Nick Biondi a short time before in honor of the man who raised him was an incredible feeling," Grundman said.
Biondi's goal during his final season is simple; be better than last year.
"My goal is to build upon what I've done the last 11 or 12 years I've played golf. So this upcoming year, I hope to be a little bit better than last year. That's all I can really ask for," said Biondi.
But, no matter what happens this year, no matter where he finishes on the leaderboard, the Biondi name will live forever in the Marywood record books.
Contact the writer: [email protected]
Twitter: @JohnFerraroTWW