PACERS SPORTS REPORT: Both Pacers basketball teams fall to Gwynedd Mercy in doubleheader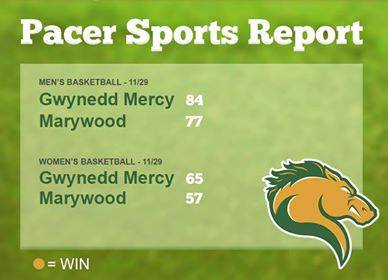 Photo credit/ Carolyn Warcup
Women's Basketball vs. Gwynedd Mercy University
The Pacers nearly pulled off a major comeback against Colonial States Athletic Conference (CSAC) opponent Gwynedd Mercy on Wednesday.
Marywood scored just 21 points on 25 percent shooting in the first half and trailed the Griffins by 19.
The team flipped the switch in the second half. The Pacers shot their way back into the game at a 45 percent clip.
According to the Marywood Pacers website, Marywood held Gwynedd scoreless over the last three minutes of the third quarter.
The Pacers continued to narrow the deficit. Freshman guard Erika Bistran hit a three-pointer with 8:31 to pull Marywood within five.
Senior guard Lisa Steakin made one of two free throws to further narrow the Griffins' lead to 54-48.
But the Griffins then seized control with an eight-point run, putting the game out of reach.
Pacers junior guard Gab Giordano led the team with a season-high 19 points. She also added five rebounds and four steals.
Bistran finished in double figures for the fourth time this season with 12 while dishing out four assists.
The squad looks to tally their first victory of the season tomorrow against Cairn University at 1:00 p.m.
Men's Basketball vs. Gwynedd Mercy University
The men's basketball team looked to continue its momentum after capturing the Cross County Challenge Championship last weekend.
Despite a career performance from junior guard Tip Swartz, the Pacers couldn't overcome the Griffins' dominance in the paint.
Swartz scored a career-high 32 points. He also set a Marywood record by going 16-for-16 at the free throw line.
Both teams struggled offensively in the first half but the Griffins outscored Marywood 20-8 in points in the paint (PIP).
The Pacers trailed 35-27 heading into the break.
Gwynedd Mercy held off Marywood in the second half by continuing to control the paint and the glass. The Griffins had 12 second-chance points in the second half (21 overall) and added 22 more PIP.
Gwynedd Mercy out-rebounded Marywood 46-36. The Griffins' Courtney Cubbage had 14 of those rebounds to go along with 19 points for the only double-double of the night for either team.
The loss drops Marywood to 3-2 overall with an 0-2 CSAC record. Marywood hosts Cairn tomorrow at 3:00 p.m.
Contact the writer: [email protected]
Twitter: @JohnFerraroTWW