The day I met Aaron Judge
I have never been the biggest fan of baseball.
Yes, in full disclosure, I did go through a Philadelphia Phillies Phanatic phase throughout my teenage years.
After seeing the Phillies capture a World Series championship in 2008, my 14-year-old self was instantly hooked on everything Phillies.
I begged my parents to paint the walls in my room red, white and blue. They even purchased a gigantic Philly Phanatic Fathead which nearly covered an entire wall of my room. I was obsessed. I was in my happy place.
After the Phillies started to decline after the 2013 season, my happy place evaporated and my love for the sport declined as well.
I didn't want to watch my team lose all the time, and I didn't know enough about baseball to watch any other games.
So, I just stopped watching baseball altogether and turned to football and basketball instead. But I eventually found my way back to baseball with my first college internship.
I became a writer for Pinstripes Plus, covering the Scranton/Wilkes-Barre RailRiders baseball team.
I didn't understand the magnitude of what I was doing at first. The opportunity to interview future players for Major League Baseball's most iconic team never entered my mind. I just wanted to make it through the summer without missing a deadline.
I interviewed nearly a dozen players that summer, but only one player truly stood out from the rest. His name is Aaron Judge.
I woke up that morning to a clear, sunny summer sky outside my bedroom window. As I went through my normal routine, I never once thought about interviewing one of minor league baseball's rising young stars.
That being said, I never thought about my interviews until I had to actually conduct them, at which point I would get really nervous. (Note: I got really nervous for Aaron Judge, too.)
I planned on arriving at the ballpark early for batting practice not only to avoid sitting through a three-hour baseball game, but also to evade competing for player time with other reporters in the clubhouse.
As I drove down Interstate 81, my nerves seemingly started to increase with every mile marker. I was still fairly new to this internship and hadn't established much confidence. As I got off my exit, I could feel my hands clenching the wheel even tighter. I drove like that the rest of the way.
After parking my car, I took a deep breath. I gave myself a mental pep talk as I got closer to the front gates.
I walked through the gates to a nearly empty ballpark. The only signs of life were the players taking batting practice, some journalists preparing pregame notes and a few seasonal employees cleaning up each seat in the stadium.
I sat in one of the chairs overlooking the diamond and waited for Judge to take his swings. He entered the box and put on a show.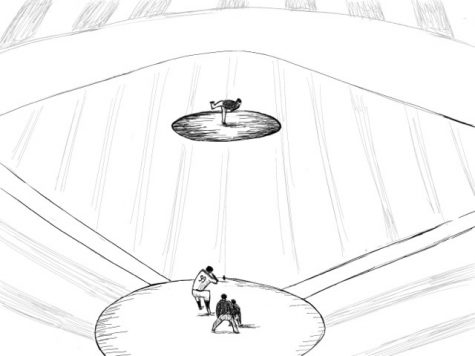 Just his stature alone caught my eye. At 6-foot-7 inches tall and 282 pounds, he towered over nearly all of his teammates.
Judge scorched one ball after another over the fence. It was unlike anything I had ever seen before in batting practice. Even some of his teammates were impressed.
After what seemed like an hour or so, batting practice ended. Judge and the rest of his teammates left the field and started to walk to the clubhouse.
I walked over to the left field concourse to find a reporter already asking him questions. It gave me a little more time to breathe.
I stood there for what felt like an eternity as the reporter asked Judge what seemed like a million questions. I patiently yet nervously waited for my moment.
Judge shook hands with the reporter. I realized I didn't have any time to waste. I felt my heart skip a beat or two. It was either interview him or go back to my editor without a story.
Even in the summer heat, my body went cold for a second. I started to walk over to him, slowly trying to catch my breath along the way. Thirty steps felt like 30,000 that day.
As I got closer, I could tell he noticed me. I didn't want to make eye contact just yet. I felt my eyes progressively shifting upward each and every step before finally locking with his.
After a few seconds of awkward silence, his face lit up.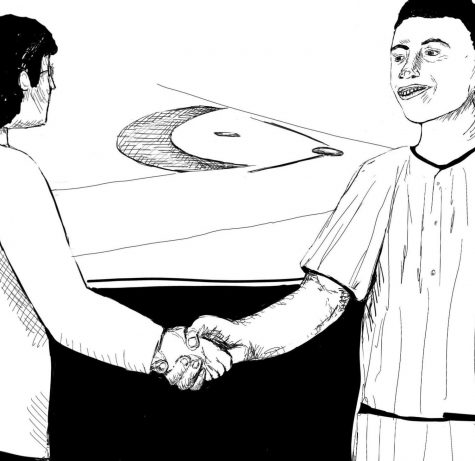 I attempted to formally introduce myself as a "Pinstripes Plus reporter." Unfortunately, I nervously said something like, "Hi, I'm an intern for an online sports magazine called Pinstripes Plus." It was not my smoothest moment in the field.
As I continued to make a fool of myself, Judge just smiled and nodded his head. After about a minute of utter word vomit, I asked him if he was ready. "Sure," he said calmly.
I tried to corral my shakiness and reached my hand into my pocket for my phone to record the interview. Not memorizing my questions, I then looked at my paper for the first one.
I tried to focus. I eventually snapped out of it and listened to him. To my surprise, he gave me a well thought-out answer. He was warm, incredibly friendly and seemed genuinely interested in giving me some time as a no-name reporter.
I started to feel a little more comfortable after that. The shakiness disappeared. My heartbeat was back to normal. I basically felt like I wasn't going to pass out.
The rest of the interview was a blur. Even though I was over my complete nervousness, I still had an underlying sense of awareness that I was interviewing a possible future MLB player. I must have interviewed him for nearly 20 minutes, but it didn't feel remotely that long.
While concluding our conversation, I stayed as professional as possible. I simply thanked him for his time and shook his hand. He gave me another smile as we walked our separate ways.
As I turned my back, I felt the biggest sigh of relief I've ever felt in my life. A smile, almost as big as his, crept onto my face as I got further and further away. I left the stadium feeling confident knowing I had what I needed to write my article.
I got into my car, turned on the radio and belted out whatever current chart-topping pop song was playing at the time. I drove home without a care in the world.
Little did I know that I had just interviewed one of the MLB's fastest-rising stars.
Judge got called up to the New York Yankees the following August along with teammate Tyler Austin. He wasted little time in making a serious impact.
Judge hit a home run in his first at-bat as a Yankee.
It wasn't until the 2017 season that Judge started to gain national attention for his play. Being a member of the winningest sports franchise ever while playing in The Capital of the World helps a little, too.
Judge crushed baseball after baseball into the seats of nearly every major league baseball stadium in America. He became a media sensation overnight.
In fact, Judge landed a spot on "The Tonight Show Starring Jimmy Fallon" in May of this year.
This one appearance instantly elevated Judge from a baseball star to a mainstream celebrity in one night. He never lost focus.
Judge dominated the 2017 Home Run Derby over the All-Star Break in July. He continued slugging for the Yankees in August and September, breaking some legendary records.
On Sept. 30, Judge passed Babe Ruth to set the single-season franchise record for most home runs (33) hit at Yankees Stadium. Judge also broke the record for most home runs by a rookie (52) and most walks by a rookie (127).
Judge helped the Yankees reach the American League Championship Series for the first time since 2012. He capped off his year by unanimously winning American League Rookie of the Year.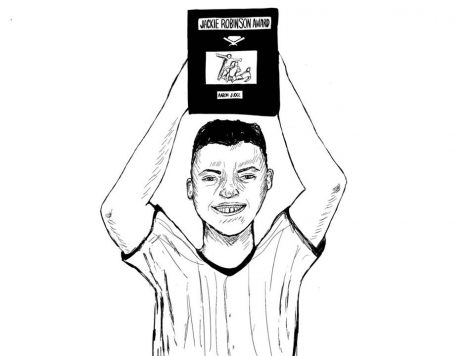 The most amazing thing to me about his journey isn't the accolades he received or records he broke. It's not about the 52 home runs or the Home Run Derby championship.
It's about his humbleness throughout the entire process. As I started to watch more of his post-game interviews, I saw the exact same player I interviewed in the minors.
He's got the same warm personality. He seems to be genuinely interested in answering questions from New York reporters, just as he did with me. His huge smile continues to light up clubhouses all over the majors, just as it lit up for me.
These examples are all the proof that the 20 minutes I spent with him were with him – the real Aaron Judge. He wasn't putting on a face for me. He was being himself, and I truly appreciate that.
My media lanyard didn't say ESPN or Fox Sports. I wasn't even actually a paid reporter. I was an intern and stupidly admitted it. But, he didn't seem to care.
You never know who you might interview as a journalist. You can never predict how you'll be treated. And who knows? You might just have an unforgettable experience along the way. Just take it from me on that one.
Contact the writer: [email protected]
Twitter: @JohnFerraroTWW