PACERS SPORTS REPORT: Men's and women's lacrosse remain perfect in CSAC play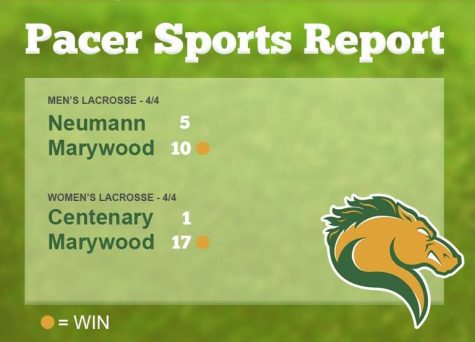 Men's Lacrosse vs. Neumann University
Men's lacrosse extended its winning streak to three games in a win over Neumann University Wednesday afternoon.
The Pacers started and finished strong in a 10-5 victory.
After jumping out to a 4-1 lead after four consecutive goals to end the first quarter, the team scored three of the game's final four goals as well.
Senior attacker Rob Maini led the Pacers with four goals while sophomore attacker Zach Vaughan added two goals and two assists.
Women's Lacrosse vs. Centenary University
The women also extended their winning streak to three games in a dominant 17-1 win over Centenary University.

The contest saw 15 different Pacers score.
Senior attacker Sam Bussinelli tied Marywood's career record for assists, which she would break in Saturday's game at Notre Dame of Maryland University.
The Pacers led all the way, scoring the first 13 goals of the game.
Bussinelli led the balanced attack along with fellow senior attacker Erin Healy. Bussinelli finished the day with two goals and three assists while Healy tallied two goals and one assist.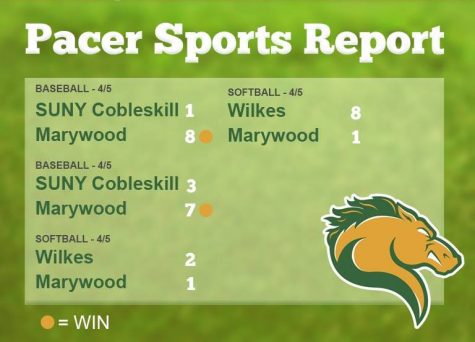 Baseball vs. SUNY Cobleskill
The Pacers swept a doubleheader against SUNY Cobleskill.

In the first game, sophomore Jerry Hobbs pitched the Pacers to victory. Hobbs finished with eight strikeouts over six innings, allowing just four hits and one earned run.
Meanwhile, a balanced offensive effort saw seven Pacers record a run batted in (RBI).
Junior Salvatore Morello started the Game Two for the Pacers. Monello went four innings with three runs coming across the plate, but none of them earned.
Sophomore first baseman Jake Schuster led Marywood at the plate going 2-for-4 with two RBIs and a double. Freshman Joey Castellani closed the door on the sweep with a three-inning save.
Softball vs. Wilkes University
The softball team lost both games of a doubleheader to Wilkes University.

Wilkes pitching held Marywood to just two runs total across two games.
In Game One, Wilkes pitcher Gracen Staunton out-dueled Marywood's ace, junior Kirstie Alvarez in a 2-1 decision.
Despite an early Pacers lead off of senior shortstop Alexa Scala's solo home run, Wilkes came from behind to claim the victory. The Colonels tied the game in the sixth inning before Sarah Gibson put Wilkes up for good in the seventh and final inning with a solo home run.
It was all Wilkes in the nightcap. The Colonels secured the sweep with an 8-1 victory.
Wilkes' offense was led by a pair of two-run home runs from Haley Welker and Christina Gambino. Celine Podlesney earned the complete-game victory with only one unearned Pacer run crossing the plate.
Contact the writer: [email protected]
Twitter: @NManzoTWW