NEWS BRIEF: Marywood players and coaches earn year-end awards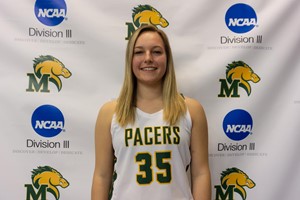 Marywood has plenty of representation for the year-end Atlantic East Conference awards.
Natasha Hessling (Women's Defensive Player of the Year, First Team All-Conference)
Hessling had a season for the record books.

She set the single-game record for rebounds with 22 on multiple occasions.
In addition, Hessling led the league in rebounding (13.8 per game) and field goal percentage (52.9). She was third in the conference in scoring (15 points per game) and fifth in blocked shots (20) while posting the fifth-best rebounding rate in the country.
Jeremy Ringland (Men's Co-Defensive Player of the Year, Second Team All-Conference)
Ringland lived up to his reputation as a rim protector again this season. The Pacer big man has sent back 88 shots to date.

He also is averaging 14.9 points per game and 5.9 rebounds per game.
Ringland scored his 1,000th point this season as well.
Thomas "Tip" Swartz (Men's First Team All-Conference)
Swartz recorded 17.7 points per game, 6.6 rebounds per game and shot 45 percent from the floor this season.

Swartz recorded his 1,000th point the same night as his teammate Jeremy Ringland.
Enrico Mastroianni (Men's Coach of the Year)
Coach Mastroianni has guided the Pacers to a 17-win season thus far.

Those 17 wins are the most in program history.
Mastroianni is the second men's basketball coach to earn the Coach of the Year honor.
Contact the writer: [email protected]
Twitter: @NManzoTWW