2020 MLB Power Rankings: 19. Toronto Blue Jays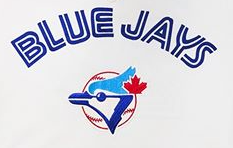 The Toronto Blue Jays are a team that I am very high on. They have much talent, but it's going to take a little more time for them to reach their full potential. Until then, they come in at number 19 in my rankings.
The Jays have three sons of former Major League Baseball (MLB) players on their team who each made big contributions last season. Vladimir Guerrero Jr. was one of the most hyped up prospects ever. He struggled a bit when he first came up to the big leagues last season, but came on strong in the second half of the season. Bo Bichette was outstanding for the Jays after he came up, with a .311 average and hitting 11 home runs in just 46 games. Cavan Biggio struggled a bit with his average at just .234, but his on base percentage was .364 while also adding 16 home runs and 14 stolen bases, which is still really good. These three players will continue to carry this team for years to come.
The Blue Jays addressed their biggest issue this offseason, which was starting pitching. They brought in National League Cy Young Runner-Up Hyun-Jin Ryu, who had a career year and finally pitched a full season after dealing with injuries for the first few years of his major league career. The Jays also signed Tanner Roark and traded for Chase Anderson. Both are solid options that could be effective for the team.
Since most of their top prospects have graduated to the big leagues, the Blue Jays no longer have one of the best farm systems in baseball. They're currently ranked near the middle of the pack at number 14 by Bleacher Report. Nate Pearson is the team's top prospect and one of the best pitching prospects in baseball. Since the Blue Jays aren't quite ready to be contenders, they shouldn't rush MLB Pipeline's number eight prospect and his electric fastball.
The Blue Jays are one of the most interesting teams in baseball. There is so much young talent on this team and in their farm system that they could dominate the AL East once they reach their full potential. For now however, they should continue to scout well and draft good players to add to that good future core.
Top Acquisition – Hyun-Jin Ryu
Biggest loss – Justin Smoak
MVP – Vladimir Guerrero Jr.
Projected Finish – 3rd in AL East
Projected Lineup:
Bo Bichette, SS
Cavan Biggio, 2B
Lourdes Gurriel Jr., LF
Vladimir Guerrero Jr., 3B
Travis Shaw, 1B
Randal Grichuk, RF
Teoscar Hernandez, CF
Danny Jansen, C
Rowdy Tellez, DH
Projected Rotation:
Hyun-Jin Ryu
Tanner Roark
Chase Anderson
Matt Shoemaker
Shun Yamaguchi
Contact the Writer: [email protected]
Twitter: @B_Murphy_MU