ANALYSIS: Major League Baseball divisional round predictions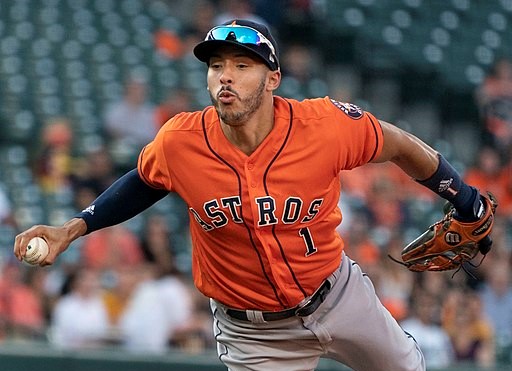 Due to COVID-19, Major League Baseball has created a new playoff system for this shortened season. Instead of the traditional 10 team playoffs, MLB created a new 16-team playoff bracket. This is the first year in MLB history that no team will have home field advantage in the playoffs going forward, as the rest of the postseason will be held at neutral sites.
Here's a few of my predictions for the divisional round.
American League:
Rays vs. Yankees
Both teams swept their opponents in the Wild Card Round, and looked very solid doing it. The Rays' dominant pitching and bullpen has to lead the way like it did in the first round if they want to beat the Yankees. Stars like Tyler Glasnow and Nick Anderson must stay consistent to get the job done. New York brought the power to Cleveland, with home runs from throughout the lineup. Aaron Judge, Giancarlo Stanton and Brett Gardener were just a few players who hit bombs for the Bronx Bombers. In the regular season, the Rays owned the Yankees, and I believe they will continue to win against them in October.
Winner: Rays in 4
Series MVP: Nick Anderson
Athletics vs. Astros
Who is the best in the West? This heated rivalry has been burning all year, and got even crazier with a benches-clearing brawl in the middle of the regular season. Due to the Astros cheating scandal, many people may be rooting against them. After sweeping the Twins, the Astros were saying they are still an elite team. The Athletics had a very up and down series, but they ended up pulling it out. For Oakland to hold off the Astros they will need their bullpen to stay solid, especially All Star closer Liam Hendriks. Houston will need to continue to stay hot, behind shortstop Carlos Correa. I think Oakland will prove they are truly the best in the West.
Winner: Athletics in 5
Series MVP: Marcus Semien
National League:
Dodgers vs. Padres
The Dodgers made quick work of the Brewers in their first-round matchup, continuing to prove why they had baseball's best record this year. Led by all-time great Clayton Kershaw on the mound, and Los Angeles's absolutely stacked lineup from top to bottom. The Padres had a tough three game series against the Cardinals, due to injuries to their two best pitchers, Mike Clevinger and Dinelson Lamet. If one of those guys comes back, this series will look a lot different, especially with Fernando Tatis Jr., the most electric player in baseball, coming in with a ton of momentum. This series could fall on pitching, and the Dodgers win that battle and the series.
Winner: Dodgers
Series MVP: Mookie Betts
Braves vs. Marlins
Before the season started, the Marlins were looked at as a laughingstock. Despite this, they proved they could be a real threat this season. In the first round, they swept the Cubs with ease at Wrigley Field, led by young pitching stars like Sixto Sanchez and Sandy Alcantara. They also had consistent hitting throughout the lineup. The Braves shut out and swept the Reds with terrific performances from Max Fried and MVP front-runner Freddie Freeman. They are going to be hard to beat in this battle of NL East powerhouses. In the history of the franchise, the Marlins have never lost a playoff series, making the postseason twice before 2020, and winning the World Series twice. I do not think their streak will be snapped yet this year, and I am taking Miami with the upset.
Winner: Marlins in 4
Series MVP: Brian Anderson
Contact the Writer: [email protected]