Commentary: NFL Awards Prediction
With the NFL Awards Ceremony taking place on Feb 9, here are my predictions on who will walk away with the hardware, which is being presented by singer Kelly Clarkson, the first woman to host the event..
AP Coach of the Year:
Finalists:
Doug Pederson, Jacksonville Jaguars
Kyle Shanahan, San Francisco 49ers
Brian Daboll, New York Giants
My pick: Daboll
All three of the coaches up for this award could very easily win. I think Daboll is the most deserving of the Coach of the Year Award. He has had a knack for winning wherever he goes. Whether it be as the tight ends coach in New England for a few Patriots Super Bowl runs, with Alabama as the offensive coordinator for Nick Saban or as the offensive coordinator for the Buffalo Bills
With the Bills, Daboll is credited with the development of Josh Allen, now one of the NFL's premier quarterbacks. Allen's progress quickly led to the Bills becoming successful. In his first season as a head coach, Daboll led a Giants team which only won four games last season to a 9-7-1 record, and their first playoff berth in six years. The Giants capped their success with a win over the Minnesota Vikings, one of the NFL's best scoring offenses, in the Wild Card round before losing to the eventual NFC Champion Philadelphia Eagles. With Daboll at least partially reworking his quarterback-developing skills with Daniel Jones, many Giants fans feel the coach will continue to lead the Giants to future success.
AP Comeback Player of the Year:
Finalists:
Christian McCaffrey, RB, San Francisco 49ers
Geno Smith, QB, Seattle Seahawks
Saquon Barkely, RB, New York Giants
My pick: Smith
I believe the award will go to Seahawks quarterback Geno Smith, despite my belief that for a player to win AP Comeback Player of the Year, one must have had prior success. Both McCaffrey and Barkley have been successful in the NFL, with injuries hindering their past couple of seasons. Smith, however, has had a different career arc. Smith was a second round pick by the Jets in 2013. The quarterback from West Virginia University was set to be the savior to the Jets offense. Smith, over two seasons as a starter, was less than impressive, eventually losing his starting role. Smith became a backup for the next six seasons, in which he spent time with the Jets, Giants, Chargers, and Seahawks.
Following a trade that sent franchise quarterback Russell Wilson to the Denver Broncos, many believed that Smith would still remain as the backup, due to the return package from Denver containing gunslinger Drew Lock, who despite lack of success, had a lively arm. Smith outlasted Lock, earning his first full time starting role in over seven years. Many expected Smith to be a placeholder at quarterback in a season in which Seattle would be terrible, allowing them to take a top quarterback in the upcoming draft. Instead, he put together a career year, in which he threw for 4,282 and 30 touchdowns, while adding 366 rushing yards, all career highs. On top of that, Smith led all qualifying passers in completion percentage, 69.8 percent, exactly seven points higher than his career average. Though my belief is you have to be "there" to come back, Smith deserves the Comeback Player of the Year Award.
AP Defensive Rookie of the Year:
Finalists:
Sauce Gardner, CB, New York Jets
Aiden Hutchinson, DE, Detroit Lions
Tariq Woolen, CB, Seattle Seahawks
My pick: Gardner
I believe the AP Defensive Player of the Year will go to the player who added a new flavor to the New York Jets defense, Sauce Gardner. Though Hutchinson and Woolen might have had better statistics than Gardner, Gardner was the most feared player at his position.
Gardner was the headliner of the Cincinnati Bearcats defense that made it to the College Football Playoffs last year. Gardner continued his reign in the NFL, allowing only a 53.5% completion percentage, who only allowed 33 more yards than Woolen, on 20 extra targets. Gardner totaled a pair of interceptions, while finishing an 88.5 Pro Football Focus grade, best among all cornerbacks. Gardner took home a First Team All-Pro nomination and will pair that with the DROY.
AP Offensive Rookie of the Year:
Finalists:
Brock Purdy, QB, San Francisco 49ers
Garrett Wilson, WR, New York Jets
Kenneth Walker, RB, Seattle Seahawks
My Pick: Wilson
Despite injuries giving both Purdy and Walker opportunities to succeed, neither will walk away with the OROY. Instead it will be another New York Jet. Garrett Wilson, the tenth overall pick in the NFL Draft, had an impressive showing for any wide receiver this year, let alone a rookie.
Wilson, the Ohio State alumni, had quarterback C.J. Stroud, a top pick in this upcoming draft, throwing him passes a season ago. This season, Wilson had four different quarterbacks throwing passes to him. Whether it was inconsistent second-year quarterback Zach Wilson, washed-up veteran Joe Flacco or practice squad quarterbacks Mike White or Chris Streveler, Wilson never had a quality quarterback throwing to him. Yet, he still finished with 83 receptions, 147 targets and 1,103 yards, leading all rookie receivers, while finishing tied for second in touchdown receptions with four. Wilson overcame the adversity of having an otherwise terrible offense surrounding him this season, which will lead to him winning OROY.
AP Defensive Player of the Year:
Finalists:
Micah Parsons, LB, Dallas Cowboys
Chris Jones, DT, Kansas City Chiefs
Nick Bosa, DE, San Francisco 49ers
My pick: Bosa
Yet another tight race sees three of the best pass rushers in the NFL jockeying for the award. Despite both Jones and Parsons finishing top-10 in sacks, it is the NFL's sack leader who will be taking home the award. Defensive end Nick Bosa put together the best season of his young career.
The former number two overall pick and 2019 Defensive Rookie of the Year led the NFL with 18.5 sacks, 2.5 more than the next nearest player. Bosa's 19 tackles for losses ranks tied for second in the NFL, while he added 48 QB Hits, 16 more than his previous single season best. Bosa headlined a 49ers defense that made a NFC Championship appearance, and though Bosa won't bring the Lombardi trophy back to San Francisco, he will be bringing the DPOY home with him.
AP Offensive Player of the Year:
Finalists:
Justin Jefferson, WR, Minnesota Vikings
Jalen Hurts, QB, Philadelphia Eagles
Tyreek Hill, WR, Miami Dolphins
Patrick Mahomes, QB, Kansas City Chiefs
My pick: Jefferson
There hasn't been a quarterback to win AP Offensive Player of the Year since Patrick Mahomes in 2018, and I believe that trend will continue. Hill's numbers were career bests and would've been first in the NFL, if it weren't for Justin Jefferson. Jefferson has been quite possibly the best wide receiver in the NFL over his first three seasons in the league. He had over 1,400 yards and at least seven touchdown receptions in his first two seasons, leading a pair of All-Pro Second Team nominations and finishing runner up in 2020 OROY voting.
Jefferson decided he was tired of the lack of hardware and put together the best receiving season of the year. He hauled in 128 receptions for 1,809 receiving yards, both first in the NFL. Jefferson scored eight receiving touchdowns, while adding a ninth on the ground, in a season that saw him get targeted 184 times and resulted in 10 100+ receiving yard games, including a 223 yard-outburst against the Detroit Lions. Named on the All-Pro First Team, he'll take home OROY as well.
AP Most Valuable Player:
Finalists:
Josh Allen, QB, Buffalo Bills
Justin Jefferson, WR, Minnesota Vikings
Patrick Mahomes, QB, Kansas City Chiefs
Joe Burrow, QB, Cincinnati Bengals
Jalen Hurts, QB, Philadelphia Eagles
My pick: Mahomes
This is a two-player race. Despite Jefferson's sensational season, the MVP has become a quarterbacks-only award, with running back Adrian Peterson's 2012 campaign being the last to yield the award. Allen put together his third consecutive sensational season, despite his turnovers. Burrow wants to become the eighth player in history to win the Heisman Trophy and the AP MVP.
Unfortunately for Allen, Burrow and Jefferson, none of them will win the award this year. The final two candidates are the quarterbacks of the remaining two teams. Jalen Hurts of the Philadelphia Eagles and Mahomes of the Kansas City Chiefs both put together stellar seasons, while leading their teams to Super Bowl berths. Hurts, in his second full season as starter, put together a resounding campaign, in which he threw for 3,701 yards and 22 touchdowns, along with 760 rushing yards and 13 touchdowns, finishing on the All-Pro Second Team. These numbers are all the more impressive saying Hurts missed a pair of games due to a shoulder injury.
As for Mahomes, many expected a regression, following the departure of Tyreek Hill. Instead, Mahomes threw for 5,250 yards and 41 touchdowns, both first in the NFL. His 5,250 yards finished fourth in single season passing yards, just 227 yards behind Peyton Manning's 5,477 yards in 2013. Mahomes added 358 yards and four scores on the ground, also earning a spot on the All-Pro First Team. Both players are deserving of the award. As much as it pains me, Hurts won't finish first, meaning Mahomes will take home his second MVP award.
All stats are as of Feb. 7 from Pro Football Reference and Pro Football Focus.
Contact the writer: [email protected]
About the Contributor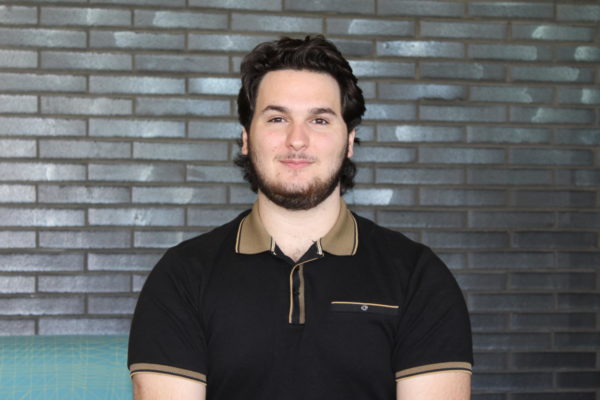 Vincent Goldschmidt, Sports Editor
Vincent Goldschmidt is a sophomore Multimedia Communications Major, on the track of Sports Media, and is the Sports Editor for the Wood Word. Along with...