5 Teams Who Could Bust Brackets in March Madness
It's officially time for March Madness. One of the best parts of the tournament is the upsets. What teams have the opportunity to bust a lot of brackets and make a miracle run this year?
#12 Oral Roberts Golden Eagles
The Golden Eagles enter the dance as a 12 seed in the East Region of the bracket. They are set to face one of the college basketball blue bloods, the Duke Blue Devils, who in their first season without Coach Krzyewski went 26-8 and were crowned champions of the ACC.
Oral Roberts will have its hands full. However, the Golden Eagles are no pushover team. They rank in the top-10 in the Division I in stats such as scoring offense (84.2 ppg), scoring margin (14), assist/turnover ratio (1.58), turnovers per game (9.4) and effective field goal percentage (.564).
The Golden Eagles are led by senior guard Max Abmas, who averaged over 22 points per game on efficient shooting. Seven-foot-five inch center Connor Vanover anchors the Golden Eagles defense, as he totaled 107 blocks this season.
Abmas is the x-factor for the Golden Eagles. In three of their four losses, he struggled to score consistently. If Abmas is able to carry the load, as he's done for the last few seasons, Oral Roberts will bust brackets.
#13 Kent State Golden Flashes
The Golden Flashes earned a March Madness bid by winning the Mid-Atlantic Conference. Sitting as the 13 seed in the Midwest region, Kent State is pitted against the Indiana Hoosiers, who lost to Penn State in the Big 10 Semifinals.
Kent State has a solid offense, with its swarming defense being their strong suit. The Golden Flashes ranked 21st in scoring margin (10), 19th in forced turnovers per game (16), 12th in steals per game (9.1), 47th in allowed points per game (65.4) and seventh in turnover margin (4.6)
Kent State's success relies on redshirt seniors Sincere Carry, Malique Jacobs and Miryne Thomas, all of which averaged double digits in scoring and over one steal per game. Redshirt Junior guard Giovanni Santiago also averaged over a steal per game for the Golden Flashes.
The x-factor for Kent State is if the offense will perform well enough for the defense to win them games. If the offense stays consistent throughout the tournament, Kent State could be a team of destiny.
#8 Memphis Tigers
Memphis enters the dance as the eight seed in the East Region. They are facing the Conference USA champion Florida Atlantic University Owls. While teams shouldn't be looking to the next game this time of year, the Tigers should make easy work of the Owls. If they are victorious, they will be pitted against the Purdue Boilermakers, who are third in the NCAA rankings.
The Tigers are a top scoring team in the tournament, ranking 24th in points per game, averaging 79.5. Memphis' scoring prowess is in part to its all-around offense, with its 24th-ranked field goal percentage (47.9%), 30th-ranked assists per game (15.6), eighth-ranked fast break points (15.35) and 28th-ranked free throws made per game (16).
Memphis is led by fifth-year guard Kendric Davis and fifth year forward DeAndre Williams. Davis was a force both offensively and defensively, averaging 22.1 points per game, 5.6 assists per game and a pair of steals per game. Williams was a force on both ends as well, averaging 17.8 points per game, eight rebounds per game, 1.5 steals per game and just under a block per game.
The x-factor for the Tigers is their ability to slow opposing offenses down. In five of their eight losses, their opponents totaled 90 or more points. If Memphis is able to build off their upset victory against the second-ranked Houston University in the American Conference championship, Memphis could very well see themselves within reach of a National Championship berth.
#11 NC State Wolfpack
The Wolfpack earned the 11 seed in the South Region, after going 23-10 on the season, before a quarterfinal elimination from the ACC playoffs. NC State is set to face the Creighton Bluejays.
The Wolfpack is very good offensively, ranking 30th in points per game (78.9). A large reason why NC State's offense is one of the best in Division I is their ability to push the break and limit turnovers. They rank fourth in fastbreak points (15.56), sixth in turnovers per game (9.4) and 16th in turnover margin (3.8).
The Wolfpack have a distributed offense, with sophomore guard Terquavion Smith averaging 17.9 points per game, graduate guard Jarkel Joiner averaging 17.1, graduate forward D.J. Burns Jr. averaging 12.9 and senior guard Casey Morsell averaging 11.9. Smith, Joiner, Morsell and graduate guard Jack Clark are all averaging over one steal per game.
The Wolfpack's x-factor is their ability to convert free throws. They only convert at around a 72% mark and free throws are key this time of year. Their offense can run with any team in the tournament, but they need to convert free throws to have the run they are capable of.
#12 Drake Bulldogs
The Missouri Valley Conference champion Bulldogs earned a bid with their victory over Bradley University in the conference championship. Seeded at the 12th slot in the Midwest region, Drake is due to face the Miami Hurricanes, who were knocked off by Duke in the ACC semifinals.
Drake is nearly a flawless team on both ends of the floor. They rank in the top-50, if not higher, in field percentage, field goal percentage allowed, three-point percentage allowed, free throw percentage, scoring margin and turnovers per game.
Drake has two main contributors offensively, sophomore guard Tucker DeVries and graduate guard Roman Penn, with a few others contributing in the higher single digits. DeVries and graduate student Garrett Sturtz both average at least one steal per game, while senior forward Darnell Brodie is averaging just under one block per game.
Drake's x-factor is avoiding their offensively-silent games. All but two of their losses saw them score less than 65 points. Drake has the tools to have a Cinderella story, but they can't afford to get in their own way.
All stats are from the NCAA as of March 13.
Contact the writer: [email protected]
About the Contributor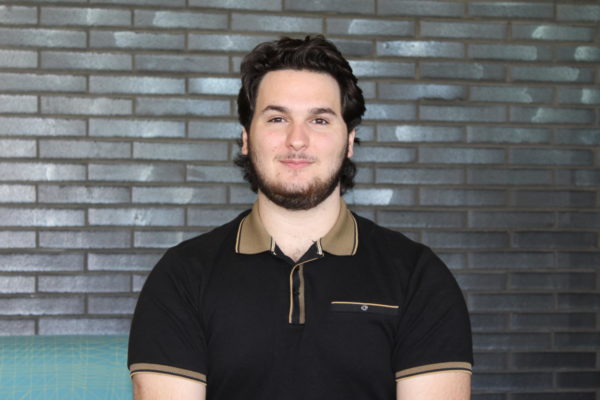 Vincent Goldschmidt, Sports Editor
Vincent Goldschmidt is a sophomore Multimedia Communications Major, on the track of Sports Media, and is the Sports Editor for the Wood Word. Along with...