Our Opinion: South Campus raises questions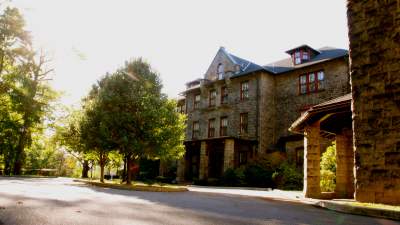 It's almost Halloween, which means students will actually have a reason to visit Marywood's South Campus.
For the second year in a row, The Asylum, a haunted house event, will provide Marywood students with a frightening experience.
What's scarier, though, is that it's one of the only things happening at the $500,000 property.
Marywood purchased the cluster of buildings that formerly housed the Scranton State School for the Deaf in March 2011. Since then, however, not very much has happened with the buildings despite several plans and renderings originally proposed to the campus community.
Since the construction of the Learning Commons began, all work, and all talk of work, happening at South Campus has come to a screeching halt.
With the Learning Commons taking center stage, it is difficult to find someone willing to comment on South Campus. Vice President for Business Affairs and Treasurer, Joseph X. Garvey, won't even entertain The Wood Word's questions about the status of South Campus.
After repeated attempts to contact him for comment have failed, The Wood Word is unable to publish updates about the future of South Campus.
In a 2011 article published in The Wood Word, Garvey said that plans would be finalized between December 2012 and 2013.
It's Oct. 2014. Where are these plans?
So, why did Marywood buy the property? No plans for it have come to fruition, and the buildings sit empty as another winter season approaches.
In retrospect, South Campus seems like a waste of money. That $500,000 could have been put toward the Learning Commons, or perhaps into the budgets of academic programs for additional resources such as faculty or equipment.