Student Nurse Association holds Fall Festival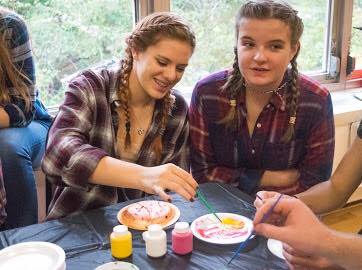 Children, families and students celebrated the fall season by attending a fall festival hosted by the Student Nurse Association on Saturday, Oct. 8.
This festival took place from 12 to 3 p.m. in the Latour Room of the Nazareth Student Center and featured activities such as pumpkin bowling, pumpkin ring toss, leaf painting and face painting. The event included many treats, such as snack tables full of cupcakes, cookies and candy.
Natalie Wasko, a senior nursing major, had the unique idea to create a pumpkin patch full of pumpkin-decorated balloons with candy inside. Members of this event wore costumes and children arrived in their own costumes as well.
President of the Student Nurse Association and Senior Nursing Major Kayte Trexler explained that the outreach of this event was specifically for children within the nearby community, but that students were welcome to stop by as well.
Trexler said she hoped that this event would show that the Student Nurse Association was "willing and ready to reach out to the community."
The fall festival also spread information about the Student Nurse Association.
Vice President of the Student Nurse Association and Senior Nursing Major Alexis Kirsch explained that members of the Student Nurse Association "want the kids to have fun."
Kirsch said that besides the activities, the festival also included a Representative from the Griffin Pond Animal Shelter, Anastasia Daniels, who set up a table to share information about animals that are in need of homes.
Daniels brought with her a terrier-mix puppy named Gus who is up for adoption. She explained that this event was beneficial in "spreading awareness about animals needing a home" and letting Gus socialize.
Five-year-old Kirsten Haun, daughter of a nursing student at Marywood, attended the event in costume. She dressed as Madeline Hatter, a character from the Ever After High doll franchise.
Kirsten said she enjoyed the games and her balloon pumpkin.
"You have to pop it open to get to the prizes," said Kirsten of her candy-filled pumpkin balloon. "When you pop it, it's gonna fly over the sky like a rocket and go boom!"
Mary Harrison attended this event to support her future daughter-in-law, a member of the Student Nurse Association, and to provide some fall fun that she knew her grandchildren would love. Harrison said that she appreciated that it was "for the kids."
Amanda Duncklee contributed to this report.
Contact the writer: [email protected]