Wright Reviews: Lady Gaga's Super Bowl LI Halftime Show gives a "Million Reasons" to love it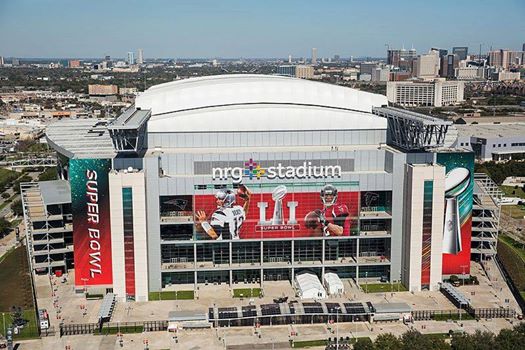 As Lady Gaga literally touched down on the stage of the Super Bowl LI Halftime Show, audiences knew they were in for an entertaining performance.
After the lukewarm halftime show that Coldplay put on last year, Lady Gaga's 13-minute musical extravaganza was a welcome burst of energy. Starting the show from the top of NRG Stadium with a short rendition of "God Bless America" followed quickly by a snippet of "This Land is Your Land," Gaga then proceeded to dive off the stadium onto the stage below.
Not since Queen Elizabeth and James Bond jumped out of an airplane during the 2012 London Olympics opening ceremony has a base jump been this enjoyable to watch.
According to the Huffington Post, the jump was prerecorded due to possible weather interference. However, through the magic of amazing editing, it was still an impressive sequence.
Gaga seemed a bit awkward at first pirouetting while still wired up, but once her feet were firmly planted on the stage, the real enjoyment of the show began. Her ability to sing and perform dance numbers with her backup group is impressive.
As hundreds of colored drones swarmed the air above the stadium and as dozens of dancers surrounded her with wonderful choreography, Gaga kept the crowd captivated throughout her performance. The dancers were especially entertaining to watch, whirling around Gaga with frenetic energy.
Gaga's medley set was full of fan favorites, such as "Poker Face," "Born This Way" and "Telephone." Only one song from her latest album "Joanne" was played: "Million Reasons."
Ending the set with a full rendition of "Bad Romance," Gaga left the crowd with a passionate performance that will likely go down in history as one of the best halftime shows in recent memory.
It would have been better if Gaga had chosen to add more songs from her fantastic new album, as relying on the hits seems to be a bit of a safe bet. However, the song choices worked well together, and truly captured the spirit of the artist and what she stands for.
While most Super Bowl Halftime performances feature special guests and other artists to add to the spectacle of the event, Gaga's star-free take on the show was rather refreshing. The production as a whole was impressive, if a little bare-bones compared to other half-time shows. This performance truly did showcase Lady Gaga as a true talent, and was definitely worth waiting through two quarters of lackluster football playing (yes it did get better in the second half.)
Plus, she caught a football while wearing Gaga-style football pads at the end of the performance, so at least she tied it back to the actual game.
Lady Gaga also announced she will be embarking on a world tour later this year. Dates and tickets can be found here.
Contact the writer: [email protected]
Twitter: @DWrightTWW