Group Spotlight: Air Force ROTC
Students may be familiar with the Army Reserve Officers' Training Corps (ROTC) program on campus which allows students to train for the Army, but many may not be aware of the Air Force ROTC program (AFROTC).
The AFROTC program is based out of Wilkes University and allows students from different schools who may not have AFROTC to attend through a crosstown program.
AFROTC is very similar to Army ROTC in that it trains students to become officers while earning a college degree at the same time.
The crosstown aspect of this program is beneficial, according to Senior Nursing Major and Public Affairs Squadron Commander Charlotte Caskey, because "you have access to different majors, different cities and different people that you wouldn't have access to before."
About the Program
On the traditional track of AFROTC, the first year is spent with cadets attending physical training (PT) twice a week, taking an air space science class and attending Leadership Laboratory, where cadets are taught important leadership skills.
During the second year, cadets have to take another class, attend PT and begin field training prep called Leadership Evaluation and Development. This is intense training to develop cadets for field training.
Then, once cadets pass field training, they are move up in the ranks and become Professional Officer Cadets. Following this, there are two more years of classes that are geared toward preparing the cadets for active duty with the Air Force.
Caskey mentioned that cadets do not have to officially contract with AFROTC until after passing field training; therefore, new members can try the program with no strings attached to see if they may be a good fit.
AFROTC at Wilkes University has recently added new, shorter programs, such as an 18-month program and a two-year program, that allow students to join later in their education with more flexibility.
"Because of the shorter programs, it's never too late to join," Caskey says, who joined AFROTC during the fall semester of her senior year.
Being a member of AFROTC does not mean just classes and training all the time. Caskey mentioned that there are many clubs and organizations, such as the honor guard team and an aviation interest club.
Shane Flannelly, a sophomore aviation management major, shared that he likes the diversity in the AFROTC program.
"Just because you are a geology major doesn't mean you can't be a pilot," Flannelly said.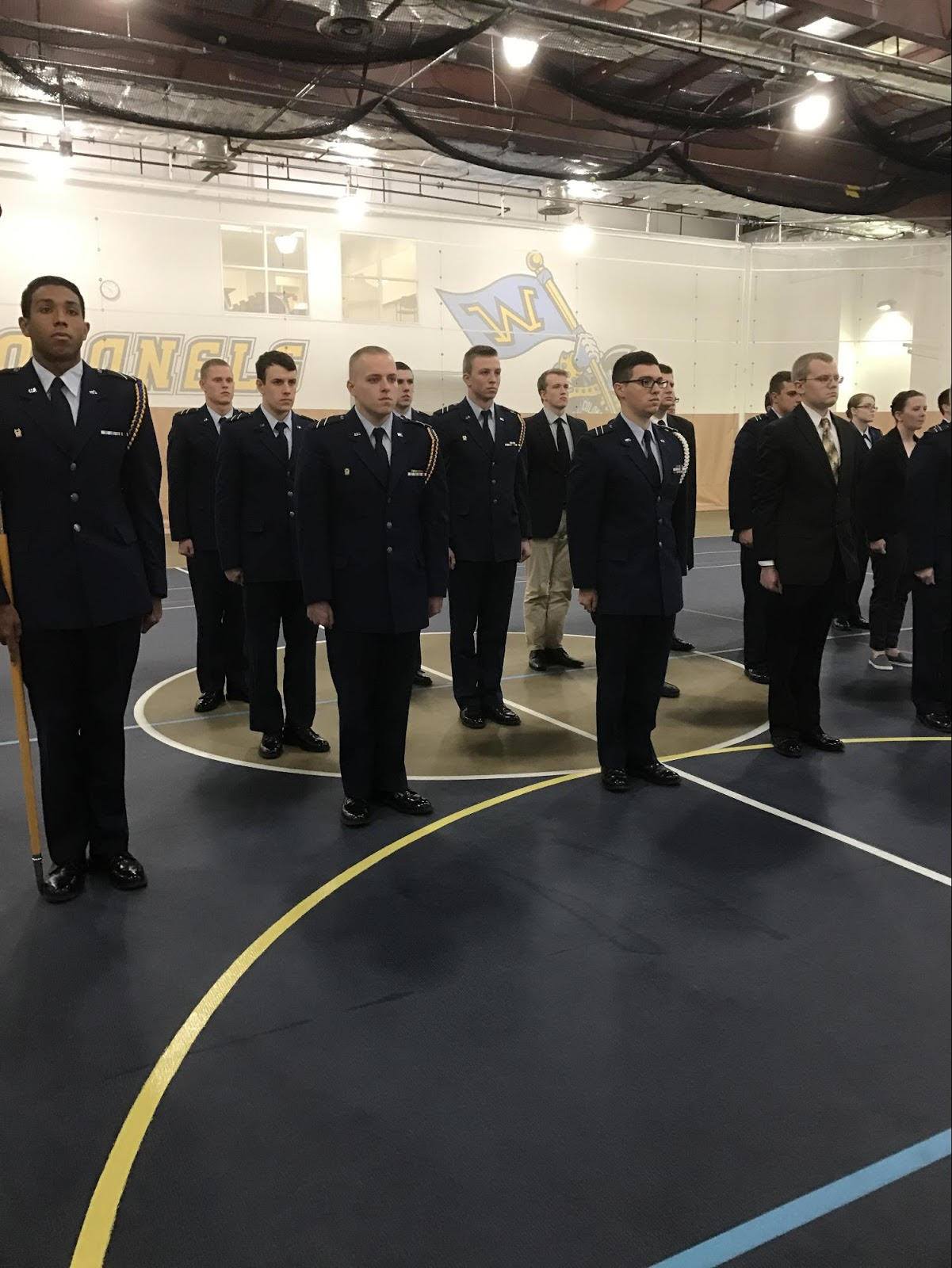 Benefits of Joining AFROTC
According to Caskey, one of the benefits of being an AFROTC cadet is the camaraderie found in the group.
"It's like a family," Caskey said. "You have such a support system to go to. When you are surrounded by people who are passionate about their futures and passionate about where they are going, you're going to start to be more motivated."
Additionally, Flannelly says that being a member of AFROTC has taught him to plan better and pay attention to small details, both things that will benefit his education.
"I think ahead a lot now. If I have a test on Friday, I'll start studying on Tuesday," Flannelly said.
Being a member also provides college credit and a guaranteed position in the Air Force upon program completion.
Advice to Interested Students
"Check it out and see what Air Force ROTC has to offer," Caskey said to those interested in AFROTC. "Meet people who are going to build you up and encourage you to create a future you never knew you had."
Flannelly also had words of advice for students who may be looking at AFROTC.
"If you're looking to be challenged outside of your academics, this is an awesome challenge to take on," Flannelly said. "And the benefits at the end are awesome."
Contact the writer: [email protected]