SAC holds back-to-school carnival
Despite a slow drizzle and an early-fall chill, Marywood students braved the weather from 2 p.m. to 6 p.m. to attend the Student Activities Crew's (SAC) back-to-school carnival.
Saturday's carnival activities included a bean bag toss, a sand art station, a balloon dart game, a face painting station, a soda bottle ring toss, a matching ducks game and fish pong, a game where students could attempt to win a goldfish.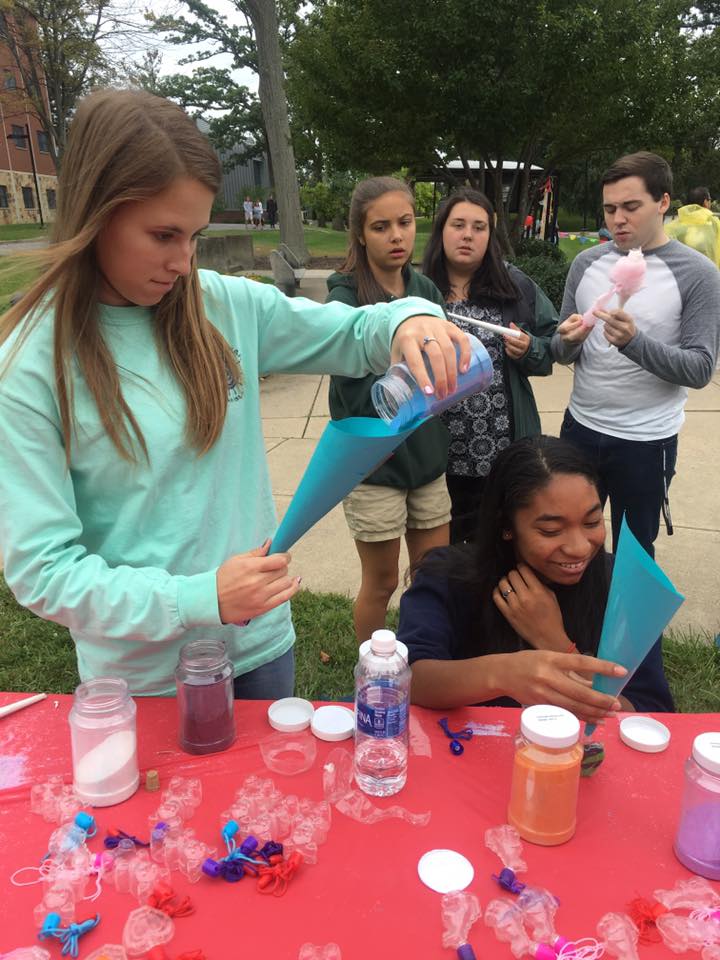 In order for participants to win a goldfish, they had to stand five and a half feet away from a folding table with Student Government Association (SGA) cups partially filled with water. Students had five shots per turn and if they made one, they won a goldfish.
Sophomore Speech Pathology Major Marci Rodriguez, a SAC Shadow, co-organized this event with Imani Kirkman, a senior history political science pre-law major and SAC Intern.
Interns and shadows work in pairs to plan and execute events. Kirkman said that the idea for the carnival originated in the spring semester and underwent planning over the summer.
"This is the first [SAC] event for the semester," said Rodriguez while giving fish pong winners their prize goldfish. "We noticed a lot of people stay on campus for Labor Day [Weekend]. We figure everyone wants a fish and something fun to do, so we planned this out."
SAC often holds events in the Art Field, but the carnival took place in the Nazareth Courtyard. Rodriguez decided this area would be better than the Art Field since "a lot of new people live in Madonna [Hall] and are forced to eat at Naz [Dining Hall] now, so I wanted to put [the carnival] in a main area."
Throughout the event, students ambled from activity to activity and ate cotton candy and Rita's Italian Ice. Senior Accounting Major and SAC Intern Brandon Sodani manned the balloon darts and controlled the music, which consisted of pop hits.
Sodani described the turnout as "decent" and said it "would be better if it weren't super cloudy and drizzling." Nevertheless, Sodani had a line of students ready to try their hand at the balloon darts.
Sarah Corbo, a sophomore international business major, attended the event because her roommate "really wanted a fish." Corbo's roommate, sophomore graphic design major April Foley, succeeded in her mission and left the carnival with a new goldfish.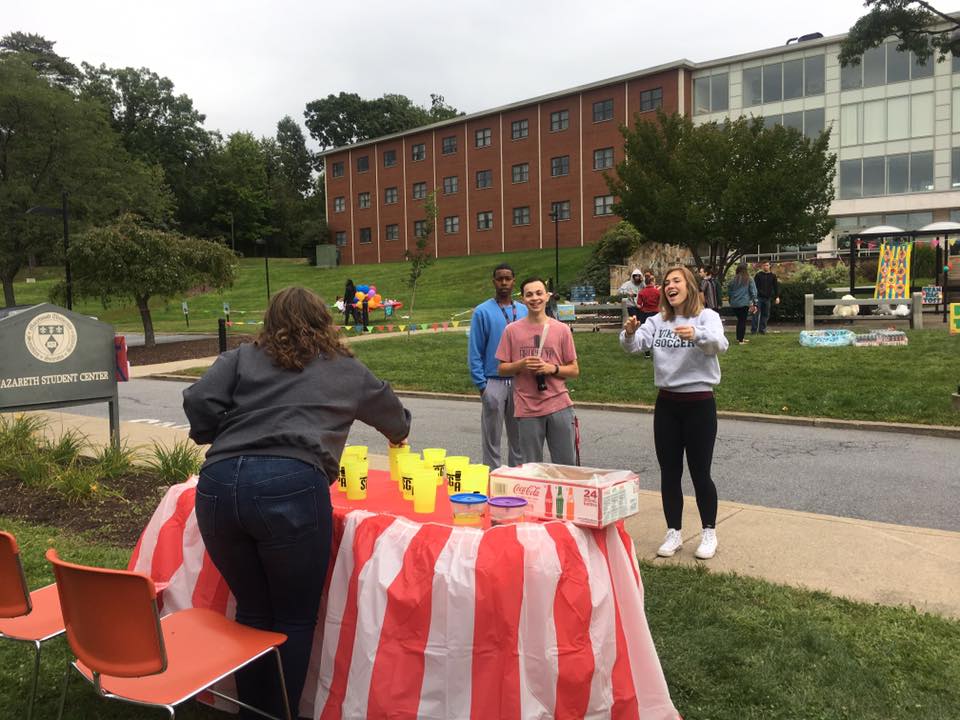 Freshmen Michael Mejia and Tom Cuffari, both undeclared majors and on the men's soccer team, said they enjoyed their carnival.
"The water pong sparked interest," said Cuffari, who won a goldfish. He also had cotton candy and appreciated that SAC provided refreshments, saying, "If it's free, it's for me."
Mejia echoed his teammate's enjoyment, saying, "I think [the carnival] is great… a lot of people need to come out here."
Though the event was advertised until 6 p.m., it ended around 5 p.m. Rodriguez said the reason for this was because SAC "got rid of all the supplies and fish we bought" and determined that overall, the carnival "went well."
Students can find out about more SAC events by visiting the organization's page on the Marywood website.
Contact the writer: [email protected]