What A Weird World! TrumpWatch 2018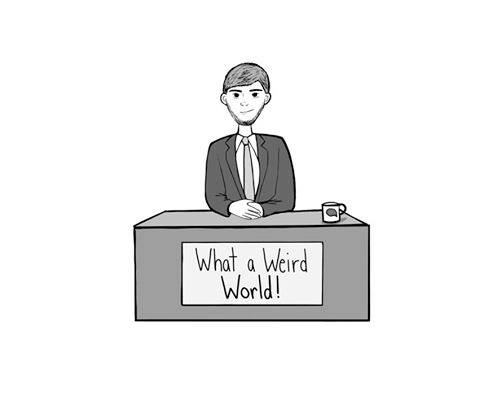 Last week was the one year anniversary of President Donald Trump's inauguration. It feels like the president used the first three weeks of the new year leading up to that anniversary to cram in as much ridiculousness as he could to truly drive home his first year in office.
The president's mental and physical health
It begins with a series of tweets straight from the source.


Is this the same "VERY successful businessman" who declared bankruptcy at least four times within the last 25 years and is responsible for this list of business failures? And the same "stable genius" who's approach to avoiding nuclear war with North Korea is taunting them and comparing the size of their "Nuclear Buttons?"
Either way, the White House doctor says Trump passed a cognitive test, which isn't enough to rule out dementia. The results of the exam also show that Trump is 6 feet 3 inches tall and 239 pounds. Odd, however, since there's evidence to suggest that he is not 6 feet 3 inches tall. Why would the extra inch or two matter? Because otherwise, his BMI would register as obese.
The, ahem, "shitholes" comment…

President Trump took it up another inch when he reportedly referred to a number of other countries including Haiti as "shithole countries." The comment came during a discussion on immigration, and the president suggested to not allow immigrants from these countries, but instead invite more Asians and Norwegians. You're doing a great job of representing our country, Mr. Trump.
Paying a porn star to keep quiet
If the president were in a sitcom, this is where he jumps the shark. New information has come to light about a previously denied affair Trump had with adult film actress Stormy Daniels. The affair allegedly took place in 2006 after Trump's marriage to Melania and the birth of their son Barron. Not illegal, but it doesn't exactly make The Donald a stand-up guy.
Things get really fishy now that The Wall Street Journal reported the President's lawyers paid Daniels $130,000 to keep quiet. I think the evidence speaks for itself on this one.
"Fake News Awards"
Because President Trump is very bored and doesn't have anything better to do, like run the country, he spent most of his time preparing a "Fake News Awards." The results, which is mostly a list of news stories and facts the President disagreed with, is published on the official GOP website. I wish I were making all of this up.
#TrumpShutdown
So here we are, at the beginning of the second year of Trump's presidency, and the government shut down for three days on Jan. 20, just before the inaugural anniversary. And Trump of course has put the blame on the Democrats in Congress, despite the Republican party's control of The White House and majority in Congress.
I'll leave you with this. If Trump were to stand by his own words for just this once, he'd have to fire himself.
"Well if you say who gets fired, it always has to be the top. Problems start from the top and they have to get solved from the top and the president's the leader." -Donald Trump, Sept. 2013
Contact the writer: [email protected]
Twitter: @weidnertww