Honors Program lounge opens in LAC
Around 150 Marywood honors students now have a space to call their own.
The Honors Lounge opened on the second floor of the Liberal Arts Center in the space previously used for the Office of Disability Services, which moved to the Learning Commons last semester.
Honors Program Director and Chair of the English Department Dr. Erin Sadlack said she proposed a space on campus for the Honors Program since she took over as director.
According to the National Collegiate Honors Council, for an honors program to be fully developed and successful, "the program is located in suitable, preferably prominent, quarters on campus that provide both access for the students and a focal point for honors activity."
As Honors Director, Sadlack reports directly to Provost Dr. Susan Turell. She said Turell knew there were offices moving around campus and found the space for the lounge.
"I had a whole proposal of ideally what we needed… places where students could study together or where they could also relax together and hopefully where there would be a small office where the Honors Director can also meet with the students," Sadlack said. "[Turell] was able to make that happen, so it was really exciting."
It took one semester for the space to be renovated for the lounge, Sadlack said. She credits Assistant Vice President of Buildings and Grounds Wendy Yankelitis and the buildings and grounds staff with quickly repainting the room and making it suitable for the lounge.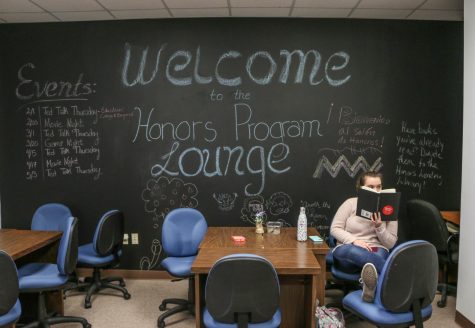 President of the Honors Program Club Laura Niederer, a senior nutrition and dietetics major, said the lounge features a chalkboard wall, a kitchen area, puzzles and a lending library for honors students to share books.
"We really wanted to create a greater sense of community with the Honors Program because there's many students in the Honors Program but in various majors, so they don't even talk to one another post their liberal arts classes," said Niederer.
Niederer explained that the Honors Program Club plans to host events in the space like TED Talks and group discussions on theses.
"I think it's going to be enormous in that kind of creation of community," said Sadlack. "That students should be able to study together and share ideas."
Only students in the Honors Program will have card swipe access to the lounge. Sadlack said this isn't meant to make the space exclusive, and encouraged students to join the Honors Program.
"Any [undergraduate] Marywood student that earns a 3.33 GPA or above is eligible to take honors courses, and then as a member of the program, they would be entitled to use that space," she explained.
Niederer said she has seen many honors students using the space since the lounge opened.
Sophomore English Literature and Art History Major Nicole Sobolewski said she uses the lounge to relax.
"Well this space I kind of just use to hang out," she said. "It's a lot less crowded than the library."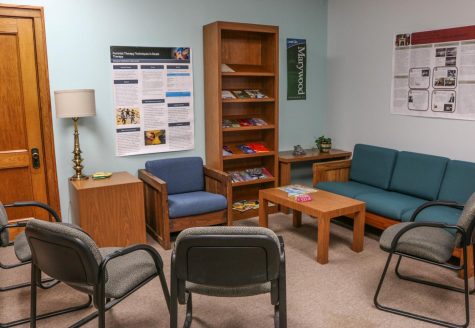 Niederer said she commends Sadlack for "working very hard and promoting the Honors Program though all these years to get it to where it is right now."
Sadlack added that the university dedicating the space to honors students shows an institutional commitment to the Honors Program.
"It shows that the university values the space and values the work the honors students do," said Sadlack. "I think it's good for them to know that this is a tangible sign of that commitment."
Students interested in becoming a member of the Honors Program can contact Dr. Sadlack at [email protected].
Contact the writer: [email protected]
Twitter: @RLookerTWW