Popcorn Picks Review: "I, Tonya" skates to success
In an era of fake news and alternative facts, one movie retells the story from a new perspective of what went down before the 1994 Olympics.
"I, Tonya" shows the story of former Olympian Tonya Harding, the figure skater who helped orchestrate the attack against Nancy Kerrigan before the 1994 Olympics. During a practice session, Kerrigan was beaten with a police baton by a man hired by Harding's ex-husband and bodyguard.
The story focuses on Harding's beginnings in the figure skating world and her climb to the top, something that many people overlooked after her attack. It also offers a chance for audiences to see Harding's side of the events.
The story brings a creative character study of Harding to life. She's shown as a messy and sometimes ignorant girl who just wants to escape her abusive childhood and skate. Unlike some biopics, it shows the flaws of the person, yet gives audiences a reason to root for her. Yes, Harding is not the most prim and proper skater out there, but she has the passion and drive to be a legend, making it hard for people to write her off. Harding was vilified by the media after the attacks, so the film had to humanize her to get people to listen to her story. The film pulled this off excellently.
Harding's character would not be who she is without Margot Robbie's performance. In the documentary-style film, Robbie is center stage giving a raw look at the figure skater. She is blunt, honest and nails the emotional distress someone like Harding would be under. She shows audiences the good, the bad and the ugly sides of her personality and uses the full range of her acting ability.
The other clear shining star is Allison Janney. If anyone had to be the villain in this, it's clearly LaVona Golden, Harding's abusive mother. The woman has her best interests out for her daughter, but between the abuse, over-protectiveness and using the skating lessons as a bartering chip of sorts, it's hard not to pit Harding against her. As the years in the film pass on, Golden becomes more aware of her daughter's talent and even more vile, and we see Janney go even further down the rabbit hole into this character. Making such a lovable actress such a hated character is a commendable move on the casting director's part. Janney knocked it out of the park.
Director Craig Gillespie created a comedic environment for this tale, turning some of the more serious moments into a light-hearted joke. In a normal dark comedy, this could work. However, in a more realistic story, it's unfair to not let the natural drama play out. Audiences may know the original story, but a film with so much abuse and crime doesn't need to be so upbeat and fast paced. Gillespie treats Harding's abuse from her mother and her ex-husband like slapstick comedy at times. He makes the Kerrigan attack seem like something out of a Looney Tunes movie. Moments like these deserve to be drawn out and dramatic.
The comedic take on the Kerrigan attack gives a chance for Margot Robbie and Allison Janney to shine. The story shows that even the most misbehaved people can make something of themselves. It may not be the most polished film this award season, but it will be polishing some awards of its own.
Rating: Four and a half out of five kernels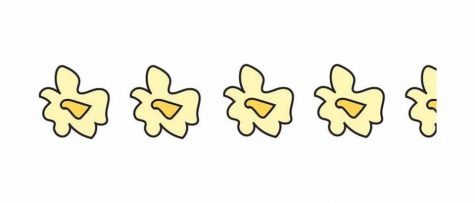 Contact the writer: [email protected]
Twitter: @BethanyWadeTWW
About the Contributor
Bethany Wade, Photography Editor
Bethany Wade is a senior digital media major with a minor in advertising. When she's not working as the photography editor or columnist for A&E, she's...