Marywood music, theatre and dance department presents 'Sunday in the Park with George'
Update: The Friday night performance of "Sunday in the Park With George" has been cancelled due to bad weather. The 7:30 p.m. performance on Saturday will go on as scheduled.
Marywood's music, theatre and dance department is set to perform "Sunday in the Park with George" this Friday, March 2 and Saturday, March 3 at 7:30 p.m. The shows will take place in the Sette LaVerghetta Center for Performing Arts.
Ticket prices are $10 for general admission, $8 for senior citizens, $6 for students and free for IHM Sisters or those with a valid Marywood ID.
The musical features music and lyrics by Stephen Sondheim.
The story is inspired by the famous painting "A Sunday Afternoon on the Island of La Grande Jatte" by the French pointillist painter, Georges Seurat. It follows the painter and his struggle to create art and maintain a relationship with his lover, Dot. Seurat is faced with scorn from the artistic community as his artistic ability flourishes while his love fades away.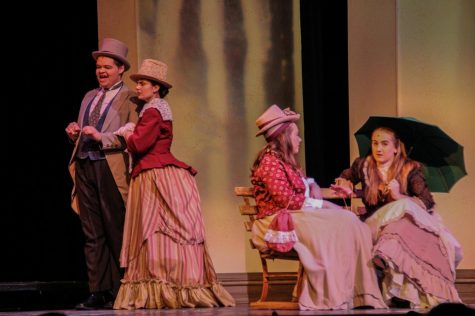 About one hundred years later, Seurat's great-grandson, also named George and an artist as well, finds himself in a similar situation.
Marywood actors in the show are playing two different parts. Taylor Patullo, a fifth-year speech pathology major, is playing the parts of Dot and Marie.
"The preparation has been a lot of hard work. Repetition has been a key part of the process," said Patullo.
Patullo also explains she's been gathering information about the time period to best portray the characters she's playing in the show.
Ken Doyle, a senior theater major, is playing the part of George Seurat in the first act during 1883 and then George's great-grandson in the second act taking place one hundred years later.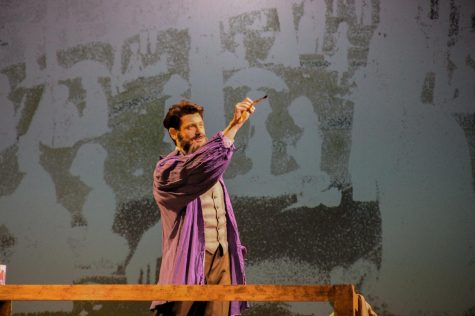 "These roles specifically call for a lot of technique and vocally the parts are insane, so it takes me a little out of my element. I'm more of an actor than a singer but seeing how we all do with these roles will be really rewarding," said Doyle.
Doyle said the show's message is to not look too far into the future.
"Don't worry about what people are going to say about you because someone will always have something to say about you," he added.
Contact the Writer: [email protected]
Twitter: @MargScottTWW