Student-made exhibition shines light on rape culture myth
A student-made art installation called "What were you wearing?" made an appearance in the Rotunda last week.
The installation provided responses from many sexual assault survivors to the question, "what were you wearing?"
Student survivors who wished to remain anonymous submitted their stories and descriptions of the outfit they were wearing when they were sexually assaulted. The outfits were then recreated by those who worked on the exhibit and showcased in the rotunda for onlookers to see.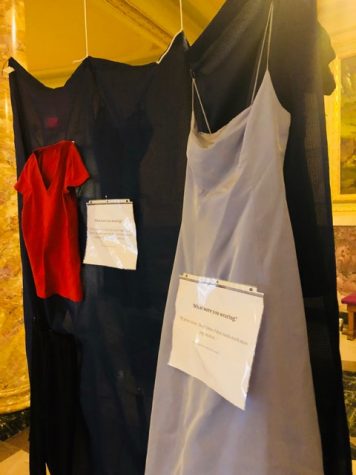 Graduate Counseling Assistant Maria Temples worked closely with putting together the exhibit, including recreating outfits and collecting stories from student survivors.
Temples explained that April is sexual assault awareness month.
"We were putting this together for First Friday in downtown Scranton as a way to get the community involved and decided to bring it to Marywood to get more people to understand this cause," Temples said.
She explained the process of recreating the clothes from student-survivors' descriptions.
"We got a packet of stories from survivors," Temples said. "The stories were detailed with what the victims were wearing and so we managed to get clothing donations that matched with the stories we were provided with. After getting the donations, those who worked on the installation helped to recreate the outfits."
The outfits that were on display featured dresses, sweatpants, t-shirts and even a United States Army uniform. Each outfit was paired with a quote from the respective survivor's story.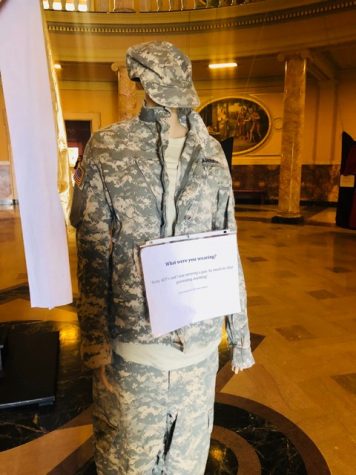 Scranton resident Kara Kornish said she felt shocked by the variety of outfits on display while visiting the installation on First Friday.
"I know that clothing isn't an invitation to be assaulted," Kornish said, "But to see so many people's stories was shocking. It's crazy to think that you could be wearing sweatpants and a sweatshirt and still be in danger."
Flyers were posted around the installation letting students know that if he or she felt triggered by what was being displayed, they could call Marywood's Counseling Center.
Contact the writer: [email protected]