OPINION: 'I miss the old Kanye'
The Wood Word's Managing Editor Alex Weidner and Sports Editor John Ferraro have some thoughts on Kanye West's controversial return to the spotlight. First, to get everyone up to speed, a summary:
West announced a number of albums, all of which would be released over the course of a few weeks starting in May.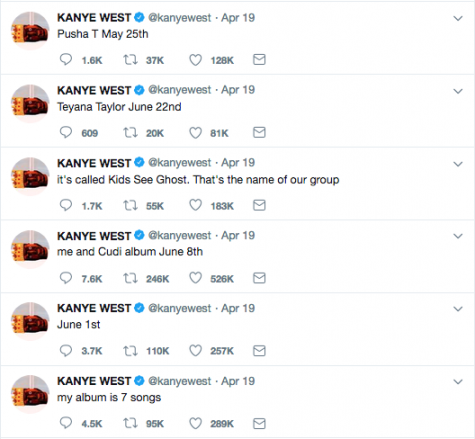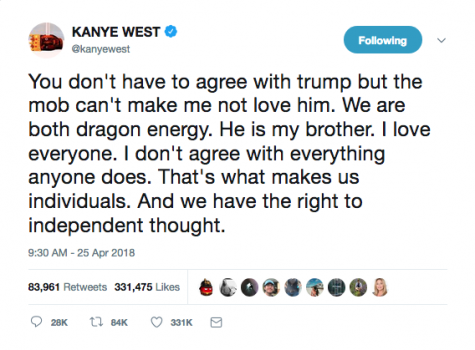 West eventually released two new songs. His first tweet about that the first song seemed to imply it would be "fire emoji." First shared on kanyewest.com, "Lift Yourself" is a sample of a soul song with a classic Kanye West beat added in. Until the end, where West drops this questionable verse to troll everyone: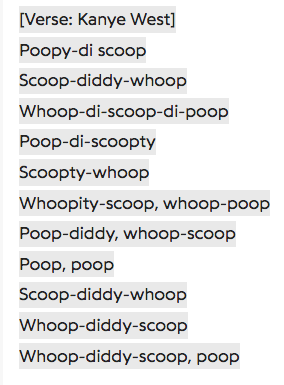 West then explained his Twitter ramblings in a song that plays out as a debate between West and rapper T.I., titled "Ye vs. the People." Unlike "Lift Yourself," it was shared on Apple Music and Spotify before being added to kanyewest.com.
On May 1, Kanye shared an unreleased interview with Charlemagne the God in which he opens up about issues like his mental health, his falling out with Jay-Z and his praise of Trump. The interview is long, but the folks at Noisey picked out some highlights.
John and Alex have some thoughts on West's recent antics.
John:
In full disclosure, I have never been a Kanye West super fan. I didn't follow him on social media. I never waited eagerly for the next album to drop.
Besides his extreme arrogance over the years, most notably when he interrupted Taylor Swift at the VMAs, he was just another artist to me.
After his Twitter rant, I can no longer ignore him or passively dismiss him as simply an artist as he is now a symbol for Trump's right-wing agenda.
Before I illustrate how West morphed into a puppet for Trump's base, I need to rip apart some of his outrageously ignorant tweets.
In his tweet referencing Trump directly, West brings up the idea of everyone having "the right to independent thoughts."
While I am also for individuality, West's "brother" Trump, isn't.
Last year, Trump floated the idea of challenging libel laws on Twitter.
Trump's tweet is a direct attack on the First Amendment, which is the gold standard of individuality and creative expression as it protects everyone's freedom of speech and more so freedom of the press.
Maybe West could talk to Trump about this the next time Trump signs his MAGA hat.
Another glaring example of Trump's attack on free thought was his response to the Charlottesville white nationalist protests last August.
As white supremacists gathered to rally for suppression of non-white speech and hate for non-whites, counter-protesters stood in opposition of the hate, fighting for the rights of all individuals.
After an unforgettable day of violence, hate and death, Trump had a chance to condemn white supremacy.
Instead, not wanting to aggravate some of his base, he said during a press conference, "We condemn in the strongest possible terms this egregious display of hatred, bigotry and violence, on many sides. On many sides."
West should challenge Trump on his rhetoric rather than tout some ridiculous make believe "dragon energy" the two apparently share.
Because West doesn't care enough to do his homework, he will continue to blindly support and "love" Trump. Right-wing conservatives will only continue to use West as the token black symbol of support for the president.
Alex:

I have to agree with most of John's anger toward Kanye West and Donald Trump. I've always been incredibly outspoken about my dislike for Trump. Unlike John, however, I am a huge Kanye fan.
West is famous for his arrogance; that's true. I would love to defend everything West has ever done, including interrupting Swift at the VMAs, but that's not possible.
What West did was wrong, but the two had made amends a few years ago when West released "The Life of Pablo" and asked for Swift's grace to include a lyric about her. However, Swift wasn't happy after the song "Famous" was released, despite the recorded phone call proving she gave the OK.
When West returned to Twitter, I was excited because that meant more music would be coming. His tweets of praise for Trump are alarming at face value, but they require more analysis.
For starters, West announced new music and he returned to Twitter to do what any self-serving artist would do, drum up attention for himself ahead of the release. He's always used controversial means to do so, exemplified by his "Yeezus" tour apparel that included the Confederate flag. But he did this for a reason:
"So I wrote the song 'New Slaves.' So I took the Confederate flag and made it my flag. It's my flag now. Now what are you going to do?"
What West has been tweeting about almost non-stop has been love. He's taking the idea of "MAGA" and changing it to fit what he wants to see in the world, which is love and understanding.
What West shows in his Twitter ramblings is that it's possible to look at something as divisive as the country's current political state from both sides.
After tweeting nothing but praise for Trump and becoming, as John said, a "symbol," a "puppet" or a "token black" man for Trump's base, West tweeted praise for Parkland shooting survivor Emma Gonzalez, who has been attacked by the same people flocking to shout praise to West.
Clearly, West is not beholden to any single narrow mindset. The same cannot be said for even me. But while I would never show any praise for the man who attacks the press and refuses to condemn white supremacists, I have to say I still respect Kanye West. He's not afraid to take a controversial stance, and not afraid to look for a middle ground in an increasingly harsh political climate. That is at least admirable.
Contact the writers:
Twitter: