Upcoming film series celebrates history for Latinx Heritage Month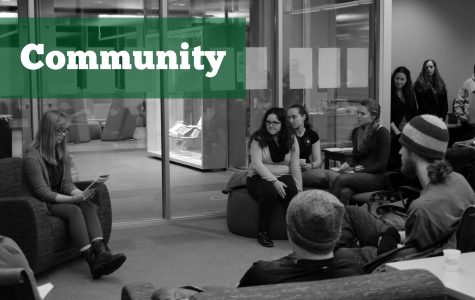 The English and Foreign Languages Department is inviting the Marywood community to celebrate Latinx culture with its first ever film series.
Programs within the English, Spanish and Latinx Studies are working with the World Languages and Literature Club to showcase three films in honor of Latinx Heritage Month. All films will be held in the Comerford Theatre.
The first film "Dolores" tells the story of Dolores Huerta, a woman battling sexism while also fighting to establish a farmer's union in the 1950s. "Dolores" will be shown tonight at 5:30 p.m.
Dr. Joshua Deckman, assistant professor in the foreign languages department, said this month is more than just a film series for the community.
"[Latinx Heritage Month] is a way for us to recognize the work and activism of people with Latin American descent," Deckman said. "It's to celebrate the markings Latin Americans have made throughout history, both politically and socially."
The second film "Pa'lante: The Young Lords Story" premieres on Oct. 10 at 5:30 p.m. and the third film "Viva" premieres on Oct. 17 at the same time.
Sophomore Music Therapy Major and Spanish Minor Briana Caballero works as co-vice president of the World Languages and Literature Club. Caballero responded to Deckman by adding that "heritage is also within oneself."
"There's such a stigma against Latinx people and how they identify themselves," Caballero said. "It's tough to express your sexuality or orientation in a community that has to fight for so much more. One of the movies we're showing [Viva] brings to light the struggles of sexuality and self-identification in the Hispanic community."
Jamil Alvarado, a sophomore Spanish major and co-president of the World Languages and Literature Club, said heritage is everything a person is.
"Where do you get your drive if you don't know where you came from?" Alvarado said. "Your heritage can't get thrown away so easily. The struggles your family had to get you here are extremely important. There's a stigma that Latin American families can't work their way up to be as privileged as others. I want to change that."
Dr. Ann Cerminaro-Costanzi, an associate professor in the foreign languages department, said that in order to be aware of different nationalities and their struggles, one has to step out of their comfort zone.
"Expose yourself to Latin American education," Cerminaro-Costanzi said. "We want everyone to understand the struggle and pride that comes with being a Latin American citizen. That is why we're showing these movies."
Deckman added to that and said, "There is always a community for everyone, no matter where they come from. They're out there, and they will help you love yourself."
Contact the writer: [email protected]