Border Stories Part One: Marywood students and faculty reflect on the crisis at the US/Mexico border
In the wake of what many term a politicized human rights problem, a group of 10 Marywood students, staff and faculty traveled to McAllen, Texas in early January. They went to assist the charities and organizations at the border as well as the families and individuals awaiting asylum there. Putting politics aside, three members of the group talked about what they witnessed and what they say we don't see on the news.
While there, the group learned about the people at the border and what the different relief and support organizations do to support migrants awaiting their hearing. Students and faculty had the opportunity to listen to the experiences of the community of undocumented immigrants and migrants there and interact with them as well.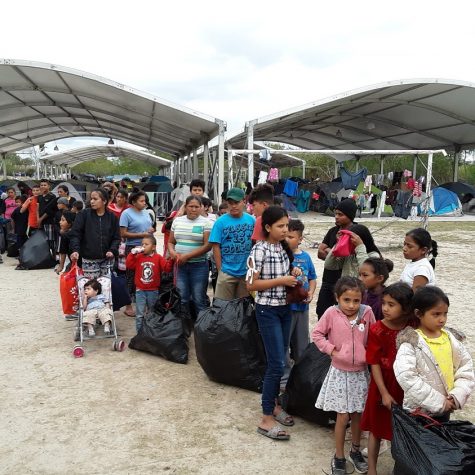 Coming back from the trip, Graduate Social Work student Courtney Loughlin, Junior Health Services Administration Major Samantha Rivera and Program Director for the Masters of Social Work Program Lea Dougherty wanted to share their experiences, hoping to bring awareness to what is happening at the border beyond the politics surrounding the issue.
Loughlin chose to go to McAllen as a way to educate herself about the border first-hand because the issue has become so significant in American politics and the misconceptions that have arisen about immigrants, migrants and refugees.
"It can be confusing to decipher everything we hear in the news especially when some of it is labeled as 'fake news' so it can be perceived as untrustworthy. It can be hard to decipher what's true and what's not if you don't have that first-hand experience," said Loughlin.
While there, the group worked with two organizations before crossing the border. Proyecto Desarrollo Humano, Spanish for "The Human Development Project," was founded by the Sisters, Servants of the Immaculate Heart of Mary (IHM) to assist undocumented immigrants living in Texas.
Loughlin said this organization works with immigrants on the U.S. side of the border and provides them with services that include medical assistance, fitness and lifestyle classes, a thrift store and other resources for undocumented individuals.
The other organization the group spent extensive time with was Arise. From Arise, the group learned about the border while also providing services such as education, counseling, after school programs and other aid to women and children. One of the Arise initiatives is the Border Witness Program.
"With the Border Witness Program, we talked to a different person each day. We met with one person one day who talked about the detention centers and camps, ICE, customs and immigration," said Loughlin. "We met with people through the Border Workers United Center who give out brochures to undocumented immigrants working on ranches who are vulnerable to human trafficking and exploitation. We learned about the building of the wall and met with some families who are undocumented."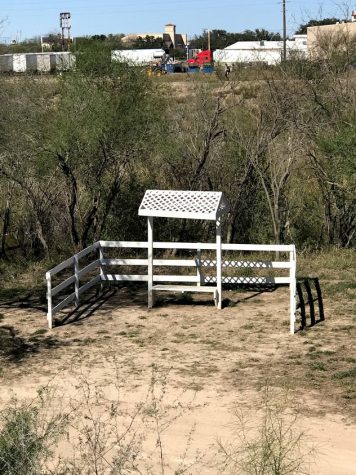 ICE is the U.S. Immigration and Custom Enforcement, a federal agency responsible for border security.
One of the undocumented families the group met with talked about their struggle crossing the border, specifically mentioning their one son who was deported after 9/11 and came back to the U.S. He is currently living in this country undocumented.
Loughlin described how this man was brutally beaten by Mexican drug cartel members and ordered, along with others attempting to cross the border, to wait face down in the dirt and not to move or they would be shot.
When the group was not working with Arise and learning about the border, they would hand out supplies and basic necessities with Catholic Charities of the Rio Grande Valley. Those from Marywood with a passport went to deliver supplies to those living along the border.
Once the student group crossed into Mexico, they were met with a city of tents housing migrant families seeking asylum and those awaiting their court hearings. According to Loughlin, the tent city did not appear until October 2019 and the living conditions are very poor.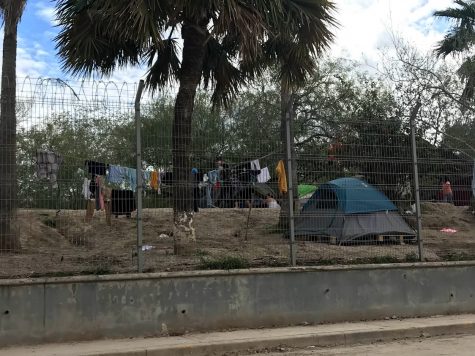 "There was a lot of pieces of litter around the campsite because there were so many people living in close proximity to each other. There were so many children playing and running around barefoot and some tents set up for medical assistance," said Loughlin.
In July 2019, President Trump proposed a new rule that cracked down on migrants seeking asylum in the U.S. This rule proposes that migrants be denied asylum if they do not apply for it in Mexico or any other country before making their way to the U,S. The rule was initially challenged by the American Civil Liberties Union (ACLU) for violating U.S. and international law, but was recently held up by the Supreme Court in Sept 2019.

The Migrant Protection Protocols (MPP) also decrease the number of migrants seeking asylum or crossing the border without proper documentation and does not allow them to await their hearings in U.S. detention centers.
Those seeking asylum in the U.S. are now forced to wait for their hearings on the Mexico side of the border. McAllen is also home to many U.S. detention centers for migrants waiting to be allowed to enter the country.
Loughlin said one of the incidents that stuck with her was when she and another volunteer who worked at the border were taking supplies to a medical tent towards what Loughlin described as the "back" of the tent city. On her way back, she saw a mother and father holding an infant who was very obviously ill and awaiting medical treatment from the camp.
"When I saw the baby, his cheeks were so puffy and red and it was just a lot to take in. In the US, even if you don't have legal status, an emergency room can't turn you away. It was just something I took for granted. It's something I still think about," said Loughlin.
Medical assistance is one of the many things that brings migrants to the US. Dougherty said that after they left, members of the Congressional Hispanic Caucus went to the border to advocate for families with sick children to cross the border. After negotiations with Border Security and ICE, three mothers and their sick babies were permitted entrance into the U.S. to receive proper medical care.
The families and people who come to the border are not always granted asylum, regardless of medical needs. Due to the difficulty for some migrants to make it to their court hearings on the U.S. side of the border, there are tents set up where judges can use Skype for hearings without migrants having to cross the border.
Rivera said her love for children made her gravitate towards building relationships with them and making them feel comfortable. One child she bonded with, a little boy named Carlos, traveled with his father from Guatemala, leaving his mother behind. Carlos and his father have been at the camp for three months.
"You see the conditions of the camp. Kids are walking around barefoot and they're dirty. Some have been here for three months, they barely have anything and still, all the kids have smiles on their faces," said Rivera.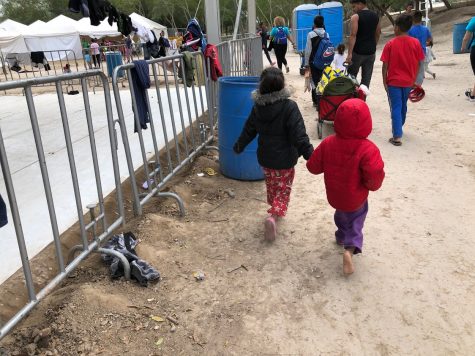 Sometimes the asylum process leads to tragedy. Dougherty recalls that the Thursday the group was at the camp, a man was denied asylum and was going to be deported. After his hearing, he exited the tent and killed himself.
Loughlin, Dougherty and Rivera said they each have things they wished the public was more aware of what's happening at the border.
"I wish people saw the right to seek asylum as the international right that it is. I don't think it's radical to want to seek safety and economic opportunity," said Loughlin.
Dougherty emphasized the importance of understanding that these immigrants are very much like those who have immigrated from Europe during times of trouble, such as Irish Immigrants during the Potato Famine and Jewish families after World War II.
"That's what families are seeking, an opportunity, safety, shelter. That's what immigration has been about; it's families," said Dougherty.
Rivera said she was the most bothered by the preventative measures outside of the border wall. She talked about benches that were set up near the border. When immigrants who cross illegally stop to sit on the benches, Border Patrol is alerted, and arrests them.
"It [the benches] hit home on how cruel our world could be. Right after they cross that border and sit down to take a breather and think that they made it, Border Patrol is alerted and show up to arrest them," says Rivera.
The three said they were moved by what they saw and wanted to share their stories with the Marywood Community. Dougherty said she was impacted so much that she is planning another trip to the border by the end of June.
Dougherty said she feels that there is more to be done here and that this situation deserves attention.
"The stuff that you're reading in the news that you think can't be happening is really happening. We need to keep talking about it," she asserted.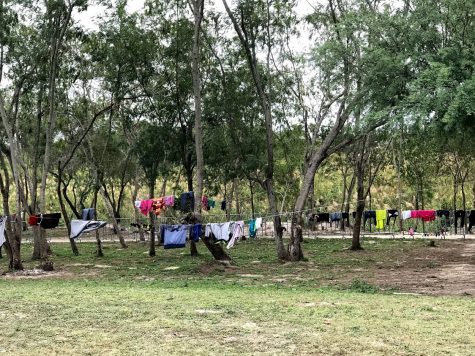 Contact the writer: [email protected]