Press Play: COVID-19 pauses the music and theatre industries
As COVID-19 has taken the world under its grasp, it has impacted not only lives but a myriad of enterprises, including the music industry worldwide.
Former frontman of the Talking Heads David Byrne summarizes the current climate of the world best in four words: "nothing is normal anymore."
From tour schedules to the release of new music, the music industry is finding new ways to adjust not only through sales but also by engaging with fans around the world.
CELEBRITY IMPACT
Numerous artists have publicly disclosed how they had a case of COVID-19 and are recovering, while others have lost their lives in the process.
On April 3, singer/songwriter Alecia Moore, professionally known as Pink, stated via Twitter that she and her three-year-old son have both tested positive for the virus and are currently in the means of recovering. In a recent interview on the Ellen Degeneres Show, the performer discussed her and her son's symptoms along with the importance of having available testing and healthcare.
"I would say, you should be angry that I can get a test and you can't," the singer stated. "But being angry at me is not going to help anything, it's not gonna solve the issue of the fact that you can't get your hands on a test… and we should work together to try and change that."
Alongside the announcement, the singer also shared how she would be donating $500,000 to Temple University Hospital. She also announced that she donated $1 million dollars to healthcare workers on the frontlines.
As a follow up to her $5 million donation to COVID-19 relief, singer/songwriter Rhianna teamed up with Twitter CEO Jack Dorsey for a charity. The pair worked to donate $4.2 million to victims of domestic violence impacted by the lockdowns enacted due to the virus. This donation will be in benefit with the Los Angeles Mayor's Fund, focusing mostly on the city's overcrowded shelters.
A variety of artists have also taken time to help those in need during the pandemic.
The National and Soccer Mommy have both launched campaigns to donate all proceeds of their merchandise to their touring band and crew members while all concerts are on hold.
Hundreds of other artists and tour-related workers have also signed an open letter to state and federal lawmakers, formally asking that they extend unemployment benefits during this time of need. Bikini Kill, Neutral Milk Hotel and Snail Mail are three of the assorted artists who have endorsed the request.
Five-time Grammy winner Christopher Cross, singer-songwriter Sara Bareilles and Radiohead guitarist Ed O'Brien are among the others who have recovered from the infectious disease.
Unfortunately, several artists have lost their lives to the virus, including but not limited to country singer Joe Diffie, Fountains of Wayne co-founder Adam Schlesinger, R&B crooner Bill Withers and folk singer-songwriter John Prine.
SPREAD VIA CONCERTS
Attendees from varying concerts and festivals have also come forward about testing positive for COVID-19.
A 41-year-old man who attended a concert for the band Ghost in Mexico City died from the virus in early March.
The man's widow believes that due to various health conditions he was suffering from at the time, he ended up contracting and spreading it at the concert as another 40-year-old attendee has also tested positive.
Two attendees of San Diego's CRSSD Festival, which featured french DJ Gesaffelstein and Australian trio Rüfüs Du Sol, also tested positive for the disease. Representatives from the festival have recommended all other attendees should visit San Diego health officials for further testing.
FESTIVALS IMPACTED
Every festival in the world has been or inevitably will be affected by the COVID-19 outbreak.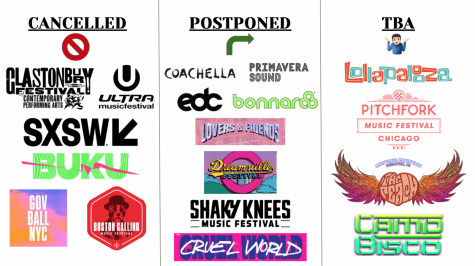 Over the past month, a horde of festivals have decided to cancel their 2020 iterations due to the pandemic. Events that have acted in this respect include but are not limited to Ultra Music Festival, Governors Ball, South by Southwest (SXSW) and Glastonbury, the largest music and performing arts festival in the world.
Burning Man, an art and music festival that annually takes place in northern Nevada's Black Rock Desert was canceled as well for the first time in its 35-year history. A virtual version is due to occur in its place.
While the majority of these canceled festivals have given refunds to those who purchased tickets, several have not.
Ultra Music Festival and SXSW have both publicly refused to give refunds to ticket holders, saying that their passes are strictly non-refundable. They are instead allowing consumers to roll over their tickets to a future iteration of their respective festivals, which has received a vast amount of criticism from those who planned on attending.
A multitude of festivals have decided to postpone their 2020 iterations as well. Primavera Sound Barcelona, Electric Daisy Festival Las Vegas (EDC) and Bonnaroo are among the many who have chosen this option.
Coachella, one of North America's largest music festivals which takes place in Indio, CA, has decided to postpone its two weekends from April to October as well. Due to the postponement, production firms Choura Events and Gallagher Staging, both of whom were due to set up the festival's stages and tents, are instead fighting the virus head-on. The two firms have assisted medical facilities by not only providing protective gear such as HVAC systems but have also built tents in an attempt to increase the number of people tested and treated.
The Buku Project, an art and music festival that annually takes place in New Orleans, Louisiana, initially postponed its 2020 iteration from March 20 and 21 to an undefined date in September. In the weeks after the change, as the outbreak became more striking and severe, organizers ended up canceling the event altogether in hopes of returning in 2021.
With the current state of the world, it is more than likely that other festivals will follow suit and cancel their events as well.
At the time of writing, festivals local to the Scranton area such as The Peach and Camp Bisco are amongst those who have not announced how their events will be affected by the pandemic.
POSTPONED TOURS
Many artists have delayed concert tours and the release of new music for the safety of their fans, crew and families.
Wilco, Major Lazer and The Rolling Stones are just three of the hundreds, if not thousands of artists who have all canceled their tour dates for the imminent future.
On the other hand, Pearl Jam, Billie Eilish and Rage Against the Machine are among the handful of artists who have postponed at least a leg of their tour dates due to the virus.
Cardi B and a plethora of artists such as Lady Gaga, Declan McKenna, Willie Nelson and HAIM have all delayed upcoming releases in light of the current state of the world.
Other artists like Hayley Williams and San Holo plan to release new music individually to coinside as a new extended play (EP).
However, these delays on new material may be for the best as streaming services have reported lower usage during the outbreak.
Alpha Data reported streams dropped 7.6 percent from March 13 to March 19, the week when bars and restaurants closed and self-quarantining became much more prominent nationwide.
During the same week, physical album sales dropped a drastic 27.6 percent and digital sales dropped roughly 12.4 percent.
However, radio listening has skyrocketed by 15 percent in the past three weeks. Sirius XM's latest promotion, which offers free streaming in North America until May 15, likely increased the number of listeners.
Listenership of radio stations has grown by reporting local and state updates regarding vaccines, legislature and more to their communities as well.
Streaming services, which directly compete for listeners with radio, have made efforts to relieve artists and music communities around the world during the current climate.
Apple Music will be supporting their artists through a newly-launched $50 million advanced royalty fund, as long as their labels qualify for eligibility.
Spotify will be amplifying the efforts of non-profit musical organizations that focus on helping those in most need through their COVID-19 Music Relief Project. In addition to donating to these organizations, the streaming giant will match donations dollar for dollar up to a collective total of $10 million.
BROADWAY & THEATRE
The outbreak has also caused a significant downfall on Broadway and the theatre industry as a whole.
Since the complete shutdown of the state of New York on March 12, Broadway has been working with union representatives to provide essential aid and income for stage workers and actors during the shutdown.
"We are grateful to be able to tell our members that the industry came together to provide some compensation during this terrible time," said a representative from the Coalition of Broadway Unions and Guilds (COBUG).
COBUG represents 14 labor organizations with a total of 75,000 members.
Shows that planned on touring through Sept. 20 such as "Cats" and "Dear Evan Hansen" are also expected to receive the same benefits.
Many producers are negotiating with theater owners for discounts on rent for venues that will remain shuttered during the shutdown.
Initial reports said the shutdown would end on June 7. Due to the severity of the disease, especially in New York City, it is likely to be extended into the intermittent future.
This shutdown has inevitably postponed and closed many upcoming and current shows on Broadway.
Shows that were in previews immediately before the closure, such as "Hangmen" and "Who's Afraid of Virginia Woolf?," have unexpectedly closed in the interim.
The Tony-nominated hit "Beetlejuice," based on Tim Burton's 1988 comedy of the same name, was previously announced to be leaving the Winter Garden Theatre on June 6, but has since closed its doors nearly three months in advance due to the shutdown.
Producers have looked into moving the musical into a different venue, although nothing is secure as of yet. Regardless of what happens on Broadway, "Beetlejuice" still plans on touring throughout the U.S. in the fall of 2021.
"How I Learned to Drive," "Flying Over Sunset" and "Birthday Candles" are just three shows on the growing list of productions that have consequently been postponed to the fall.
National tours have had dates postponed and canceled on an international scale as the outbreak becomes ever so challenging to relieve.
As a result of many delays and closures of different shows, the 74th Annual Tony Awards, which feature the latest and greatest in Broadway productions, have been postponed from June 7 to a later date yet to be announced.
Contact the writers: [email protected] & [email protected]
Twitter: @MKelleyWW & @RAndrusTWW