Mother Theresa Maxis Duchemin: A Legacy of Social Justice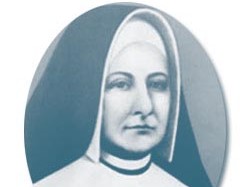 In the past year, Marywood University has stood in solidarity with the Black Lives Matter movement. However, the university's commitment to social justice began decades earlier with the life of Mother Theresa Maxis Duchemin.
Maxis co-founded the Sisters, Servants of the Immaculate Heart of Mary (IHM) in 1845. When the IHM sisters founded Marywood in 1915, the legacy of Maxis became connected with the history of the university.
Maxis was born in Baltimore, Maryland, in 1810 to a Black Haitian refugee and a White British military officer. The surname Maxis came from her maternal great-grandfather who was a Black slave in Haiti. The name Duchemin was the surname of the family who brought her mother to the United States.
During her childhood, Maxis attended a school for Haitian refugee children. According to IHM President Sr. Ellen Maroney, IHM, Maxis became aware of injustices during her upbringing.
"Growing up in Baltimore as a young woman, she saw the racial injustice that was apparent in society," said Maroney.
In 1829, the three women who ran the school that Maxis attended founded the Oblate Sisters of Providence, which was the first religious congregation for Black women in the world. Maxis became the congregation'ss fourth charter member at 19 years old.
According to Director of Student Equity and Inclusion Dr. Lia Richards-Palmiter, faith has played a significant role in the Black community.
"A big part of religion with Black folks has been that it's a place where people can vent and understand each other's narratives," said Palmiter. "It's also a place to encourage perseverance during the difficult times that we've gone through."
Due to prejudices, the bishops in Baltimore prohibited the Oblates from accepting new members. Additionally, enrollment in the school declined because fewer Haitian refugee families could afford to send their children to the school.
In 1843, IHM Co-Founder and Redemptorist Father Louis Florent Gillet asked Maxis to move to Monroe, Michigan to minister to French immigrants in the area. Maroney explained that Maxis felt a calling to Monroe.
"She felt that her mission was to go where the need was," said Maroney. "This is something that even today is a cornerstone part of the IHM congregation."
Sr. Margaret Gannon, IHM, author of "Pilgrim: Let Your Heart Be Bold: Mother Theresa Maxis Duchemin, I. H. M.," explained that when Maxis decided to go to Monroe, she left behind the Oblates and her Black community.
"Because her father was White, she was very light-skinned," said Gannon. "So, this made it possible for her to pass as a White woman in Monroe."
Maroney explained that while serving with the Redemptorist Fathers in Monroe, Maxis became inspired by their missionary work.
"She really was devoted to the idea that the church was mission in action," said Maroney. "That we had to be where the people are and reach out and serve them."
However, in 1855 the Redemptorists left Michigan, angering Bishop Peter Paul Lefevere, who did not want them to leave.
"She had become very connected with the Redemptorist priests," said Gannon. "When they withdrew that broke her heart because the bishop wanted to remove any trace of the Redemptorists from the congregation."
Maxis viewed these actions as a danger to the future of the congregation. She wanted to open a second congregation in Pennsylvania where other sisters from Monroe had moved to be with the Redemptorists.
"She spoke up to the bishop and felt that the congregation should be going to Pennsylvania and be free to make more decisions," said Maroney. "She was not against the bishop. She simply thought that he was using his authority to restrain her call."
As a result of their actions, Lefevere prohibited the sisters in Monroe and Pennsylvania from contacting each other. Additionally, he revealed to the auxiliary bishop in Pennsylvania that Maxis was Black, damaging her reputation due to racism. Through her actions, Maxis was labeled a trouble-maker.
"The clergy thought that they were authoritative, and they didn't want anyone else making any decisions," said Gannon. "She wasn't like that. She was very independent and clear of what she believed."
Due to the friction, Maxis moved to the Grey Nuns Convent in Ottawa.
"She thought that if she left the congregation and went somewhere else that she would be able to come back to [Lefevere], and he would let her rejoin the congregations," said Gannon.
However, she was not accepted back and lived in exile in Ottawa for 16 years. Gannon said she believes that it was moments of severance that hurt Maxis the most.
"Her letters that a sister in Scranton saved, when [Maxis] started to write her, showed so much sadness over not being with the congregation," said Gannon. "These moments of separation were really hard for her."
Her exile ended in 1885 after allies of Maxis appealed to Philadelphia Archbishop Patrick John Ryan, who allowed Maxis to return.
Maxis was never able to see Marywood come into fruition as she died in 1892, 35 years before its founding. However, Palmiter said she has an idea of how Maxis would feel about it today.
"I think she would be pleased about how we're more mindful about what our role is with social justice," said Palmiter. "Sometimes we take the more difficult path, and I think she would be happy with that."
Gannon explained that Maxis' spirit is seen through the involvement of the university and IHM sisters in social justice causes. Specifically, through their support of the Black Lives Matter movement.
"Her racial origins make us responsible to face the issue of racism," said Gannon. "That's why [Black lives] matter to us because our founder was a Black life."
Later this semester, a painting of Maxis, painted by an IHM sister from Philadelphia, will be placed in the Learning Commons by university President Sr. Mary Persico, IHM, Ed.D during a yet-to-be-scheduled ceremony.
Throughout her life, Maxis suffered through racism, clericalism and sexism. Despite it all, she persevered.
"She knew she had to get certain things done no matter what the price was," said Gannon.
Contact the writer: [email protected]
Twitter: @BrianaRyanTWW