It's Easy Being Green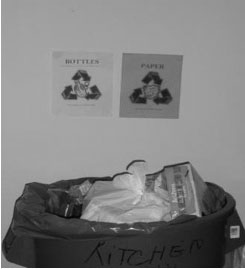 By Christina Morozov
Staff Writer
The Earth needs our help. This time it is in a battle not of words or violence, not in a battle of enemies or hate, but rather in a battle pitted against ourselves created by ourselves. The world is hurting and we hold the potential for change by righting the wrongs of our ancestors and of our own mistakes. We hold the potential to make a better future for not only us, but generations still to come. Global warming and the "Go Green" mentality has befallen us, are you ready to answer the battle cry?
One of the organizations on campus at the forefront of the "Go Green" campaign is the Undergraduate Student Government Association. This is being fueled by the Sustainability Committee that is ad hoc of Marywood. The SGA, thinking along the lines of the larger spectrum, believes that Marywood has a responsibility to see this process through. With the rise of hybrid cars and "An Inconvenient Truth," the university needs to recognize the problem and be a piece of the solution. It is their hope that through generating university awareness, students will take the initiative to do their part.
According to Duane Elders, Executive SGA President, one of their specific goals for the year is to establish a campus-wide recycling program that will include all offices, resident halls and classrooms. Carl Oliveri, Director of Student Activities and Leadership Development, suggests that one of the main problems in the recycling system currently implemented is that it lacks uniformity and convenience. Students either cannot find the right receptacle or are confused as to what recyclable goes where. The new plastic container deposits will be larger and more visible. They will also be of the same color and don the same labels making them more accessible to the masses. The SGA as well hopes to partner with Chartwells to implement recycling containers at outdoor events.
Other aspects of the SGA's plan include limiting the use of flyers, something that has been cut down from previous years. Each building on campus will only be allowed a certain number for a specific event. There has also been a movement towards more electronic methods of communication such as email and Facebook. These not only get a message out quickly, but can save over-indulgences in paper that usually get tossed straight in the trash.
There are several ways that students themselves can get active in making Marywood "Go Green." All of these ideas not only help the environment but can save you money in the long run:
Don't waste so much paper. Ask yourself before you print something if you really need it in hard copy or can read it straight from the computer.
Utilize the resources that you already have instead of frequently purchasing new items.
Plastic water bottles take a significantly long time to decompose in landfills. Think about investing in a thermos of stainless steel water bottle.
Switch to more energy saving light bulbs.
Turn off the lights and air conditioning when you aren't in the room.
Break the habit of using plastic grocery bags. Invest in a tote bag.
Carpool or walk to places of reasonable distance.
Purchase used textbooks/Sell your old textbooks
Reduce, reuse, recycle!
If students want to become more involved with the SGA's campaign, they can attend the SGA meetings every other Tuesday at 9 p.m. in the Lynett Boardroom, Nazareth Student Center. Another good opportunity would be to join Marywood's ecology club, Pugwash, which meets every other Thursday in the Science Center Lounge. In more general terms, being green involves being more conscience about the things you throw out and their impact on the environment. Know that every little bit counts in the grand scheme of everything.