May 2009 Guatemala Service Trip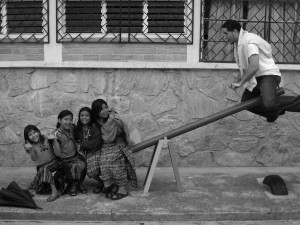 By Julianne Kinsey
Staff Writer
The Guatemala International Service Trip is a service trip offered out of the Office of Campus Ministry. International Service Trips provide a way for students to gain experience in and learn about culture in a setting outside of the United States, typically in Latin America. Last May, a group of ten students and two chaperons traveled to Guatemala. They went to San Lucas for five days, to Chichicastenango (CHICHI), for four days, and then back to San Lucas for the end of their trip. In San Lucas, the group worked at the San Lucas Mission, helping to construct a new coffee drying plantation. In CHICHI, they worked at a school facilitated by the Sisters of Dominiqua.
"I think it changed my viewpoint on global poverty," says Megan Hannon, who participated in the trip. "The people we saw did not have the best conditions, but made the most out of life and were generally and genuinely happy about life. I believe we view poverty as the people are sad all the time, but the people actually have each other and their faith, which is very strong. Faith and religion is something that is very important to the people and I believe it is a driving force in how they act in everyday life."
The San Lucas Mission's goal is to "enhance and enrich the whole person… [and is made evident in the] educational, medical, nutritional, spiritual, and socio-economic planning and programs…
There were multiple programs being executed while the Marywood group was there, but they mainly dealt with the coffee drying plantation. Before the coffee beans are roasted, they need to dry out. The coffee drying plantation's purpose is for coffee farmers in the community to triple their production since they currently do not have enough room to dry their coffee beans.
Some of the other programs running included medical facilities, which graduate student Javier Diaz helped with. "Specifically, I helped a group of doctors with buying medical equipment in another city," he explains. "San Lucas is a small town and there is only one Hospital. Doctors usually come from the States and volunteer. Since the doctors did not know how to speak Spanish, I helped to translate."
After that, the group traveled to CHICHI to work at Internado de niñas, a school for girls. The school that the group volunteered at is called the "Internado" by the students, and there are 200 girls that live there ten months out of the year because they live too far away to travel every day. There are also more than 200 children that come during the day. It is a private school and the girls' families pay what they can. The group interacted with the students by playing games, such as soccer and basketball, and singing songs. They also taught each other some English and Spanish, respectively. "The children were so encouraged to hear about our lives, and where we lived. We tried our hardest to speak as much broken Spanish as we could, but they helped us along, we in turn taught the students common American phrases," says Jean Gruber.
The city of CHICHI is a little bigger than San Lucas and students were very impressed with their market that they visited one day with the girls, described by Hannon as "an explosion of color" and by Diaz as "a place one must experience before death."
The interactions with the students in CHICHI and the community members in San Lucas raised cultural awareness in the group that went and, surely, impacted the lives of both the community served and the Marywood students."The interconnectedness between our group members and the people of Guatemala is something I will never forget. We as a group were able to see unimaginable images of poverty, and the beauty within it all, and meet inspiring people," says Gruber.
When looking at this service opportunity from a cultural perspective, Hannon was very effected by the people there, demonstrating the reciprocal effect that Marywood's mission prompts us to experience. "I feel that the trip has changed many things for me, one especially being that I try to not rush through life as much. In Guatemala it is very focused on the people and relationships, not going from place to place and being rushed to be on time. Life is just at a slower pace when it comes to interacting with each other. It made me realize how very important it is to stop and have a conversation with someone or at least pause to say hello without running somewhere else," said Hannon.
Typically, international service trips run twice a year, once in the winter and once in the spring. This coming year, there will not be an international service trip offered in May, but since the application process is the semester before the trip, keep a look out for applications in the spring for the winter 2010-11 trip.