The Life of St. Alphonsus Liguori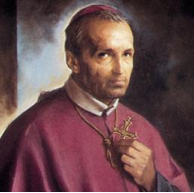 By Josh Rumage
Staff Writer
St. Alphonsus Liguori is one of the most important figures in the Catholic faith. With his firm discipline and a sense of love and compassion from his mother, he was able to persevere in his education, which lead to great achievements in his life.
St. Alphonsus Liguori was born on September 27, 1696 in Marianella, Campania in the Kingdom of Naples which today is in modern day Italy. The early years of his life saw him as the eldest of seven children within the Neapolitan nobility. Approximately two days after he was born, he was baptized at the Church or Our Lady the Virgin under the name of Alphonsus Mary Antony John Cosmas Damian Michael Gaspard de' Liguori.
When he was sixteen, he attended law school and became a lawyer, one of the many positions St. Alphonsus Liguori held in his lifetime. During the years of his life, St. Alphonsus Liguori held fourteen careers which included: mystic, spiritual director, bishop, preacher of missions, hospital minister, founder of the Redemptorist Congregation, moral theologian, doctor of the church, civil lawyer, canon lawyer, man of letters, artist, musician, poet, and author of 111 books.
Alphonsus felt called by the spirit of God to bring forth the Gospel to the abandoned poor of society. That was his biggest mission towards the end. He is also credited for his devotion to the Eucharist, in which he said these words: "Enlarge your heart. We are dealing with a God who is full of love."
In Alphonsus Liguori: A Lifetime Focus on Proclaiming God's Love, a timeline is given to briefly depict what his life was like. In 1712, he obtained a double doctrine in canon and civil law from the University of Naples; afterwards, he began to practice law and volunteered at the Hospital for Incurables and local prisons. 1724 saw him begin his spiritual life and entering a diocesan missionary group. In 1726, he was ordained as a diocesan priest. Three years later, he moved to the Chinese College were he worked alongside the impoverished.
By 1732, Alphonsus had founded the Congregation of the Most Holy Redeemer, which was soon to become known for its closeness to people. Within this congregation, Alphonsus gave a "solid preaching style" and "pastoral approach" in the Sacrament of Reconciliation. Alphonsus ministered as the rector major of his order and an itinerant missionary. While he was the head of this congregation, he wrote and published his 111 works which included his enormous views on Moral Theology.
In 1762, Alphonsus was appointed bishop of St. Agatha of the Goths, a church near Naples, where he reformed "ecclesiastical abuses, organized missions, and established a social welfare program for the poor." When 1779 arrived, Alphonsus was ill, deaf, and partially blind. He sent his Redemptionists to the royal court for negotiation reasons for the approval of the congregation's constitution. The negotiations worked and the emissaries accepted the rules; however, the Pope was angered that Alphonsus' rules contradicted the changes towards the "radical spirit" and dismissed him from the congregation.
On August 1, 1787, St. Alphonsus Ligouri died in Pagani, Campania in the Kingdom of Naples at age 90. A century after his death, he was canonized in 1839 and in 1871 he was declared a doctor of the church.
Alphonsus is considered a patron of the IHM Sisters and Marywood University for it was through Father Louis Florent Gillet, Redemptorist priest and co-founder of the IHM Sisters, that Marywood was gifted with the legacy of St. Alphonsus Liguori through enjoyable participation in the "redemptive mission of Jesus with special responsiveness to the cry of the poor and abandoned in our society".
Alphonsus also told us "God loves everyone". Well, it can easily be said that here at Marywood, everyone shares an equal love for Alphonsus due to his compassion and determination to help the less fortunate find a place in the world through love and faith. Compliments go to Sister Catherine Luxner, IHM, who provided a great deal of the information presented in this article.