Chicken Man of Guatemala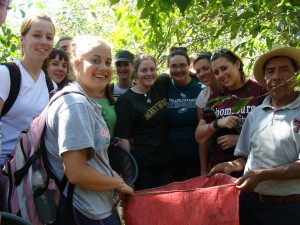 By Chuck Fisher
Peace & Justice Editor
A rooster crowed. I turned to the Guatemalan man up the slope from me and asked in my pathetic Spanish, "Como se dice, uh…… "pollo hombre?" I wanted to make conversation and practice Spanish as I was throwing rocks on a pile to help build a retaining wall. I figured that a rooster would be a good way to start a conversation so I asked him how to say, "man chicken."
"Como?" "What?" asked the man, a perplexed look on his face.
"Pollo hombre." I repeated.
I turned to our chaperone, Sr. Donna, and asked if she could help me out. After saying some words to the man she turned to me and said, "Chuck, he wants to know why you called him a 'chicken man'."
Eyes wide I quickly turned back to the man saying, "No, no, no, no! No pollo hombre," and then started crowing like a rooster. The sister turned to the man, "Como se dice, 'macho pollo."
"Oh," said the man, "Gallo." He then started chuckling to himself and everyone had a good laugh at my masterful linguistics.
In the ten days I spent in Guatemala with eleven others from Marywood, I did a lot of work; I hauled rocks, dug dirt, painted, cleaned, scrubbed, all while dodging three wheeled taxis, called "Tuctucs," careening up and down the streets…all things I could have done in Scranton…except for the Tuctuc dodging. Now, granted, service is service is service, but when you get down to the essence of the experience, it really wasn't as much of a service trip as it was a cultural immersion experience. In fact, we were so immersed I'm still trying to scrape the experience out of pants and boots!
Conducting service was the price of admission for us to be able to interact on the social and cultural level with the people of San Lucas Tolimán, a village abutting the south shore of Lake Atitlán and nestled in the highlands of Guatemala. There's an old Mission built in the late 1580s by the Spanish a couple of blocks from the lake's edge where Father Greg Schaefer, a parish priest from New Ulm Minnesota has spent the last forty years building trust with the residents and encouraging outside groups to give some of their time to the various causes and projects of the village. Father Greg's "in" with the people allows outsiders, like ourselves, to be accepted into the life of the Mission and village and to be treated more like guests than like tourists, which in turn allowed us to learn more about them and they, us.
The "chicken man" was one of the locals who helped build our experience. We worked with him carrying ever increasingly heavy and ever increasingly sharp rocks up an ever increasingly steep incline while ever increasingly sweating and smelling. But, we brought him a little company and humor in the hot sun, and vise versa. The "chicken man" (whose real name totally eludes me and who will forever be ingrained in my mind as simply the "chicken man") helped us with learning the language and taught us about local customs. According to him, in the local Mayan language, the word "Chuck" means "fat and slow," (a point my family later totally agreed with).
The "chicken man" wasn't the only Guatemalan we talked or worked with (if he was then it would have kinda been a boring trip). We met Marta, a shopkeeper who always pestered us to buy stuff from her store. We met Jorge, Marta's next door business rival who wasn't as "in your face," as she was. We changed money with Margarito, the man who ran the business operations for the mission. Every night, a night watchman named Carlos would sit in the lobby of our hotel/guesthouse and play a miniature marimba to pass the time. We were given a tour of all of San Lucas's projects the local coordinator, Filipe Guatemalan guy whose sense of pride for his work emanated from his short but tough stature. All of them treated us more like family than tourists.
On New Year's Day, we left San Lucas and traveled to Chichicastenango, "Chichi," a town that was two hours away up winding, bumping, motion-sickness-inducing roads; arguably the worst roads in the western hemisphere with some of the bravest…..or most insane drivers to boot. Sr. Donna spent thirteen years living and working in Chichi, from 1994 – 2007, at a place called the "Internado de niñas," a residence and school for young, poor, indigenous girls from the countryside. She saw the ending phases of Guatemala's civil war and as well as the rebuilding. Like Father Greg, she built a trust with the Chichicastecos and the Sisters who ran the Enternada. This trust was manifested by an utmost respect for her by the Sisters and a profound amount of hospitality for us. They gave us more Spanish practice too. Sr. Donna's nephew, who came along with us, and I talked about hurricanes with one of the Sisters. The conversation wasn't so much about strong storms as it was just about showing our appreciation to the Sister by trying to learn her language. While at the Internado, we repainted their basketball court and showed the Sisters how to use two microscopes donated by the Science Department; small tokens of gratitude but well meant. While in Chichi we also went to Mass in a church built in the late 1500s on top of an old Mayan Temple, and visited their world famous outdoor market, the largest open air market in the Western Hemisphere, before returning to San Lucas.
It is really hard to understand this experience unless you have actually been on Guatemalan soil carrying…..Guatemala soil up hills and talking to "Chicken Men." I see it as one of the most pivotal events of my life so far and I really owe it to all of the "Chicken Men of Guatemala."