Marywod hosts Family Weekend 2013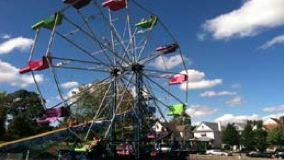 Marywood welcomed students' families for a fun-filled weekend at this year's family weekend, September 27- 29. The Student Activities Crew (SAC)  planned various activities, performances, and events for students and families to enjoy. Students also had a chance to show their families the campus and to meet with faculty.
Mentalist and comedian Sean Bott kicked off the weekend with his illusionist performance Friday night. More than 500 Marywood students and families attended the Illusionist, who has been featured on major TV stations such as Sci-Fi, MTV, and WB. Bott left the crowd laughing hysterically while amazing them with his wit and mentalist abilities.
Claire Werner, a junior pre-physician's assistant major, brought along her whole family to the performance.
"Sean was really funny. I brought my family from Long Island, it was a lot of fun," Werner said.
Werner wasn't the only one having fun. Sean Bott said the roughly 500 member audience was a great turnout for the show.
"[The crowd was] a fantastic, fun group to play with. A lot of times some groups can be uptight, but we just had fun tonight," said Bott.
Saturday had even more activities in store for families to enjoy. The morning began with a carnival on the Nazareth parking lot. Plenty of activities kept families busy, including pumpkin painting, caricature drawings, and poster sales. Families also had the chance to ride the giant Ferris wheel and Super Slider. Carnival games and foods, including cotton candy, hot dogs, and popcorn, rounded out the event.
Jessica Rothenheber, a master's student in higher education and SAC employee, said she was very pleased with the turn out for the fair.
"It looks like there are a lot of families here, which is good."
Other highlights from family weekend included sporting events including the Third Annual Nick Ferrante Men's Lacrosse Alumni Game and soccer games. The weekend also included family-oriented brunches and dinners as well as a Casino night. The weekend wrapped up Sunday morning with a Liturgy at Marian Chapel.