"Wonderful Town": Wonderful Review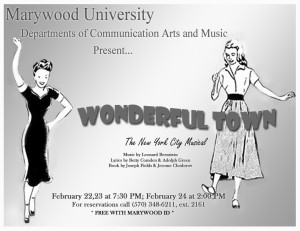 By Mandy Boyle
Advertising Sales Manager
Although the snow kept the theatre quiet on Friday night, Saturday and Sunday's performances of Wonderful Town left the main stage of Sette LaVerghetta Center echoing with roaring applause.
Marywood's production was an excellent example of the caliber of the theatre department, with the use of a revolving set making for dynamic scene changes, vibrant costumes, jazzy choreography, and swingin' vocals.
Students involved with Wonderful Town have put in countless hours prior to the show's anticipated open on February 22.
"I think they (the performances) went pretty well, I was bummed that we couldn't do Friday's performance after all the work that we put in," said Nathan Bradley, who played the lovably simple Wreck, a football player out of season. "But I think that Saturday and Sunday's performances really made up for it."
A reception catered by Zuppa del Giorno followed Saturday's evening performance. In addition, the production was dedicated to Mr. William Weber, Marywood University's Wind and Jazz Ensembles director and the conductor of Wonderful Town's orchestra.
Since its Tony Award-winning open, Wonderful Town has been entertaining audiences since 1953, showcasing music by composer Leonard Bernstein, lyrics by famous duo Betty Comden and Adolph Green, and book by  Joseph A. Fields and Jerome Chodorov. In 2003, Broadway staged a revival of the production featuring famous actresses Donna Murphy and Brooke Shields in the role of Ruth Sherwood.
New York City's Greenwich Village is the setting in which sisters Eileen and Ruth Sherwood come to make their fame and fortune. Ruth, an aspiring writer with biting wit, sets out to get published, while Eileen, beautiful and naïve, treads the boards looking to break into show business.
Surrounded by a cast of kooky neighbors, a fleet of Conga-dancing sailors, and a brigade of Irish policemen, Ruth and Eileen are taken on a series of wild adventures, where their roots in Ohio could have never prepared them for.